Set 10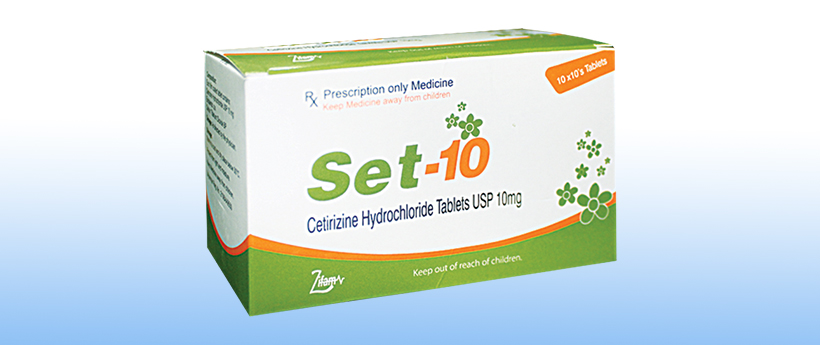 Set-10
Full Prescribing Info
Manufacturer
Distributor
Contents
Each film coated tablet contains
Cetrizine Hydrochloride USP 10 mg
Excipients: q.s
Colour: Titanium Dioxide BP
Indications / Uses
Therapeutic Category: Antihistamine.
Adults and adolescents over 12 years of age: Symptomatic treatment of allergic rhinitis (seasonal & perennial), associated allergic conjunctivitis and chronic idiopathic urticaria.
Children 6-12 years: Symptomatic treatment of allergic rhinitis (seasonal & perennial) and chronic idiopathic urticaria.
Dosage / Direction for Use
Route of Administration: Oral
Adults and adolescents over 12 years of age: One tablet daily.
If drowsiness occurs, the tablet can be administered in the evening.
Children 6-12 years old, weighing 30 kg and more: One tablet daily of 5 mg (½ tablet) taken twice daily (morning and evening).
Children 6-12 years old, weighing less than 30 kg: 5 mg (½ tablet) taken once daily.
Children 2-5 years: Cetirizine hydrochloride 10 mg Tablets are not recommended for use in children of 2 to 5 years of age.
In patients with moderate renal impairment, the dose should be adjusted to 5 mg (½ a tablet a day).
For the treatment of seasonal allergic rhinitis, treatment should be according to disease history and should be stopped once symptoms have resolved.
Over-dosage
Somnolence, unconsciousness and/or excitation (principally in children). Ataxia, tremor, headache, hallucinations, seizures, dry mouth, flush, hyperthermia, mydriasis, urine retention, tachycardia, and in the case of massive doses, possible fall in blood pressure and arrhythmias. Nausea and vomiting. Also, extrapyramidal symptoms are possible. Sedation can be a symptom of overdose; it can occur after a single dose of less than 50 mg.
Contraindications
Hypersensitivity to Cetirizine hydrochloride or to any of the excipients.
Patients with severe renal impairment.
Special Precautions
In some patients, long term treatment with tablets may lead to an increased risk of caries due to mouth dryness. The patients should therefore be informed about the importance of oral hygiene.
At impaired hepatic function and renal function, the elimination may be impaired. Caution should be exercised when administering to these patients.
It may potentiate the effects of alcohol. Therefore, caution is recommended at concomitant use of alcohol.
Caution is recommended with concomitant use of CNS depressants.
It contains lactose. It should not be administered to patients with rare hereditary problems of galactose intolerance, the Lapp lactase deficiency or glucose-galactose malabsorption.
Use In Pregnancy & Lactation
Pregnancy: Data on limited number of exposed pregnancies indicate no adverse effects of cetirizine hydrochloride on pregnancy or on health of foetus/newborn child.
Animal studies do not indicate direct or indirect harmful effects with respect to pregnancy, embryonal/foetal development, parturition or post natal development. Caution should be exercised when prescribing to pregnant women.
Breast-feeding: Cetirizine has been reported to be excreted in human milk. Cetirizine hydrochloride should be avoided during lactation.
Adverse Reactions
Blood and lymphatic system disorders: Very rare: thrombocytopenia.
Immune system disorders: Rare: hypersensitivity. Very rare: anaphylactic shock.
Psychiatric disorders: Uncommon: agitation. Rare: agression, confusion, depression, hallucination, insomnia.
Nervous system disorders: Common: headache, somnolence. Uncommon: dizziness, paraesthesia. Rare: convulsions. Very rare: syncope, dysgeusia.
Eye disorders: Very rare: accomodation disorder, blurred vision, oculogyric crisis especially in children.
Cardiac disorders: Rare: tachycardia, palpitations.
Respiratory, thoracic and mediastinal disorders: Uncommon: pharyngitis, rhinitis (in children).
Gastrointestinal disorders: Common: dry mouth. Uncommon: abdominal complaints such as abdominal pains, nausea, diarrhoea, digestive disorders.
Hepatobiliary disorders: Rare: abnormal hepatic function (increased transaminases, alkaline phosphatase, gamma-GT and bilirubin). Very rare: hepatitis.
Skin and subcutaneous tissue disorders: Uncommon: rash, pruritus. Rare: urticaria. Very rare: angioneurotic oedema, erythema multiforme.
Renal and urinary disorders: Very rare: dysuria, enuresis, micturition difficulties.
General disorders and administration site conditions: Common: fatigue. Uncommon: asthenia, malaise. Rare: oedema.
Click to View ADR Monitoring Form
Interactions
Use of cetirizine hydrochloride must be discontinued three days before allergy tests.
It may potentiate the effects of alcohol. Therefore, caution is recommended at concomitant use of alcohol. Caution is recommended during concomitant use of CNS depressants.
Category B: Either animal-reproduction studies have not demonstrated a foetal risk but there are no controlled studies in pregnant women or animal-reproduction studies have shown an adverse effect (other than a decrease in fertility) that was not confirmed in controlled studies in women in the 1st trimester (and there is no evidence of a risk in later trimesters).
Storage
Store in a cool and dry place below 30°C.
Protect from light and moisture.
Shelf Life: 24 months.
Description
Each film coated tablet contains Cetirizine Hydrochloride USP 10 mg.
Excipients/Inactive Ingredients: Colour: Titanium Dioxide BP.
Mechanism of Action
Pharmacology: Pharmacodynamics: Cetirizine hydrochloride is a racemate and an anti-allergic with specific histamine H1-receptor blocking characteristics.
Cetirizine hydrochloride inhibits cutaneous reactions in allergic individuals by VIP (Vasoactive Intestinal Polypeptide) and the P substance, neuropeptides that are considered involved in the allergic reaction. Effect is reached within 2 hours with a maximum effect after 4 hours, and remains for at least 24 hours. In allergic individuals, cetirizine hydrochloride inhibits the recruitment of eosinophils after stimulation with allergens and unselective histamine liberators, by a mechanism that is not primarily explained by the H1-receptor blocking characteristics of the pharmaceutical.
Pharmacokinetics: Absorption: Cetirizine was rapidly absorbed with a time to maximum concentration (Tmax) of approximately 1 hour following oral administration of tablets, chewable tablets or syrup in adults. When healthy volunteers were administered multiple doses of cetirizine (10 mg tablets once daily for 10 days), a mean peak plasma concentration (Cmax) of 311 mg/ml was observed. Cetirizine pharmacokinetics were linear for oral doses ranging from 5 to 60 mg. Food had no effect on the extent of exposure (AUC) of the cetirizine tablet or chewable tablet, but Tmax was delayed by 1.7 hours and 2.8 hours respectively, and Cmax was decreased by 23% and 37%, respectively in the presence of food.
Distribution: The mean plasma protein binding of cetirizine is 93% independent of concentration in the range of 25-1000 mg/ml, which includes the therapeutic plasma levels observed.
Metabolism: Approximately 50% of the radioactivity was identified in the urine as unchanged drug. Most of the rapid increase in peak plasma radioactivity was associated with parent drug, suggesting a low degree of first-pass metabolism. Cetirizine is metabolized to a limited extent by O-dealkylation to a metabolite with negligible antihistaminic activity.
Elimination: The mean elimination half-life in 146 healthy volunteers across multiple pharmacokinetic studies was 8.3 hours and the apparent total body clearance for cetirizine was approximately 53 ml/min.
Antihistamines & Antiallergics
ATC Classification
R06AE07 – cetirizine ; Belongs to the class of piperazine derivatives used as systemic antihistamines.
Presentation / Packing
FC tab 10 mg x 10's.
ကုန်စည်အမျိုးအမည်
Cetirizine 10 mg ပါဝင်သည့် ဓာတ်မတည့်ခြင်း၊ အင်ပြင်ထခြင်း၊ ယားယံခြင်းနှင့် နှာစေးနှာပိတ်ခြင်းတို့ကို ပျောက်ကင်းသက်သာစေသော သောက်ဆေးဖြစ်သည်။
သုံးစွဲပုံအညွှန်း
လူကြီးနှင့် အသက် ၁၂ နှစ်အထက် ရှိသူမျာအတွက်၊ တစ်နေ့ ၁ ပြား သောက်ပါရန်။
အသက် ၆ နှစ်မှ ၁၂ နှစ်အတွင်း ကိုယ်အလေးချိန် 30 kg (သို့) 30 kg ထက်ပိုသော ကလေးများအတွက် တစ်နေ့ ၁ ပြား (သို့) တစ်နေ့တစ်ခြမ်းသာ သောက်ပါရန်။
အသက် ၆ နှစ်မှ ၁၂ နှစ်အတွင်း ကိုယ်အလေးချိန် 30 kg ထက်နည်းသော ကလေးများအတွက် တစ်နေ့ တစ်ခြမ်းသာ သောက်ပါရန်။
အသက် ၂ နှစ်မှ ၅ နှစ်အတွင်းရှိကလေးများ သောက်သုံးရန်မထောက်ခံပါ။
သတိပေးချက်
အသည်းကျောက်ကပ်လုပ်ငန်းဆောင်တာ မကောင်းသောသူများ သတိထားသောက်သုံးပါရန်။
ဦးနှောက်နှင့် အာရုံကြောဆေးများ အရက်တို့နှင့် အတူတွဲဖက်သောက်သုံးခြင်းကို သတိထားရှောင်ကြဉ်ပါရန်။
Lactose ပါဝင်သောကြောင့် Glactose intolerance ရှိသူများ မသောက်သုံးသင့်ပါ။
နို့တိုက်မိခင်များ မသောက်သုံးသင့်ပါ။
ထားသိုသိမ်းဆည်းပုံအညွှန်း
အပူချိန် ၃၀ ဒီဂရီစင်တီဂရိတ်အောက် အေးမြ၍ ခြောက်သွေ့သောနေရာ၊ နေရောင်နှင့်တိုက်ရိုက် မထိတွေ့သော နေရာတွင်ထားပါ။
အရွယ်အစား၊ အရေအတွက် နှင့် အသားတင်ပမာဏ
ဆေးကတ်တစ်ကတ်စီတွင် ဆေးပြား (၁၀)ပြား ပါဝင်ပြီး ဆေးကတ်(၁၀)ကတ်ပါဝင်သော ကတ်ထူစက္ကူဘူးဖြင့် ထုတ်ပိုးထားသည်။