Osteoflam plus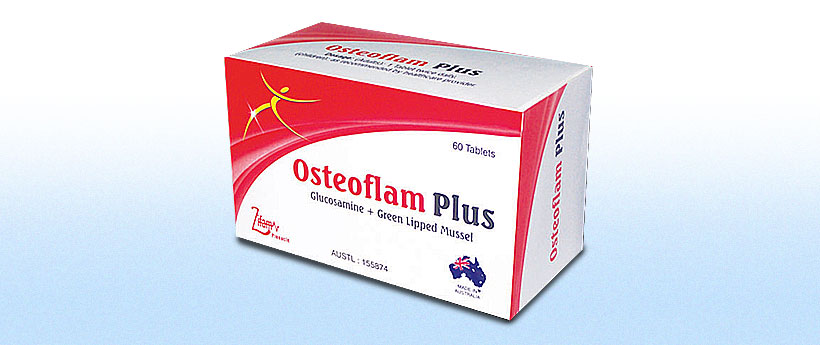 Contents
Each film coated tablet contains:
Glucosamine Hydrochloride 953mg
Equivalent to Glucosamine 750mg
Green Lipped Mussel Dried 200mg
Description:
Osteoflam Plus is a new combination with documented benefits in osteoarthritis. Glucosamine, studies confirm benefits in relieving pain and symptoms of osteoarthritis; infact a disease modifying action. Green lipped mussel dried of New Zealand source suggestively supports connective tissue and joint functions, rebuilds synovial fluid in joints, ligaments and tendons, rich in glycosaminoglycans (GAG's) essential fatty acids and well tested anti-inflammatory activity.
Bioavailability & Pharmacokinetics:
After oral administration, Glucosamine is bioavailable both systemically and at the site of action (the joint).
Steady state glucosamine concentrations in plasma and synovial fluid are achieved within a week of regular administration. Green Lipped Mussel is well absorbed and utilized due to its composition of amino acid and carbohydrate complex fortified with sea mineral.
Health Benefits and Uses:
Glucosamine is a precursor for glycosaminoglycans and glycosaminoglycans are a major component of joint cartilage. Supplemental glucosamine may help to rebuild cartilage and treat arthritis. Green Lipped Mussel is nutritional whole food that possesses an exceptional degree of biological activity. Aging causes wear and tear of joints and bones. Green-Lipped Mussel as a supplement may assist in joint mobility and cartilage maintenance and general well being.
Indications:
Osteoflam Plus is a special combination of Green Lipped Mussels extract and Glucosamine. Green lipped mussel contains proteins, omega-3 fatty acids and glycosamino-glycans. Glucosamine relieves symptoms of mild osteoarthritis, supports joint health and mobility, and helps maintain joint cartilage health.
Directions for use:
Adults: Take 1 tablet twice daily after meal or as advised by your health practitioner.
Contraindication:
Patients with seafood allergies or allergy to any of the components.
Storage:
Store below 30°C, in a dry place, away from direct sunlight.
Keep out of reach of children.
Do not use if blister seal is broken.
Warning:
If symptoms persist, seek advice from your healthcare provider. Derived from seafood.
Contains crustacea (shell fish) and soyabean products.
Packing:
Pack of 1 blister of 10 tablets each
Pack of 6 blisters of 10 tablets each