Veetab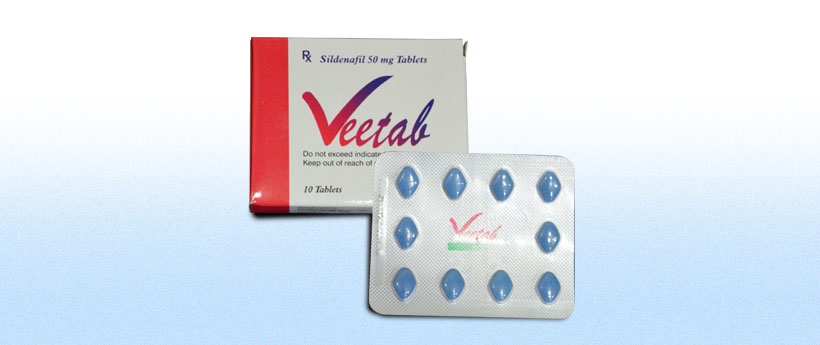 VEETAB/BEETAB100
Each film coated tablet contains
Sildenafil Citrte
Equivalent to Sildenafil 50mg/100mg
DESCRIPTON
Veebab, an oral therapy for erectile dysfunction, is th e citrate salt of sildenafil, a selective3 inhibitor of cyclic quanosine mono phosphate (cQMP)-specific phosphodiesterase type (pDE5)
Sildenafil citrate is designated chemically as 1-[[3-(6-7-dihydro-1-methyl-7-oxo-3-propyl-1 H-pyrazolo[4,3-d] pyrimidin-5-yl)-4-ethoxyphenyl] sulfonyl]-4-methylpiperazine citrate.
Sildenafil citrate is a white to half-white crystalline powder with a solubility of 3.5mg/ml in water and a molecular weight of 666.1. Veetab is formulated as film-coated tablets equivalent to 50mg and 1000 mg of sildenafil for oral administration.
INDICATIONS AND USAGE
Sildenafil citrate is indicated for the treatment of erectile dysfunction
CONTRAINDICATIONS, PRECAUTIONS AND ADVERSE REACTION
CONTRAINDICATIONS
Consistent withits known effects on the nitric oxide/cQMP pathway sildenafil citrate was shown to potentiate the hypotensive effects of nitrates, and its administration to patients who are using orgnaic nitrates either regularly and/or intermittently in any form is therefore contraindicated. Sildenafil citrate is contraindicated in patients with a known hypersensitivity to any component of the tablet.
PRECAUTIONS
The safety of sildenafil citrate is unknown in patients with bleeding disorders and patients with active peptic ulceratio.
The safety and efficacy of combinations of sildenafil citrate with other treatments for erectile dysfunction have not been studied. Therefore, the use of such combinations is not recommended.
ADVERSE REACTONS
The most common side effects of sildenafil citrate are headache, flushing of the face, and upset stomach. Less common side effects that may occur are temporary changes in color vision (such as trouble telling the difference between blue and green objects or having a blue color tinge to them), eyes being more sensitive to light, or blurred vision. Heart attack, stroke, irregular heartbeats, and death have been reported rarely in men taking sildenafil citrate. Most, but not all, of these men had heart problems before taking this medicine.
INTERACTIONS
Single doses of antacid (magnesium hydroxide/aluminium hydroxide) did not affect the bioavailability of sildenafil citrate.
Sildenafil metbolism is principally mediated by the cytochrome P450 (CYP) isofroms 3A4 (major route) and 2C9 (minor route). Therefore, inhibitors of these isoenzymes may reduce sildenafil clearance.
OVERDOSAGE
In studies with healthy volunteers of single doses up to 800mg, adverse events were similar to those seen at lower doses but incidence rates were increased.
In cases of overdose, standard supportive measures should be adopted as required. Renal dialysis is not expected to accelerate clearance as sildenafil is highly bound to plasma proteins and it is not eliminated in the urine.
DOSAGE AND ADMINISTRATION
For most patients, the recommended dose is 50mg taken, as needed, approximately 4 hour before sexual activity. However, sildenafil citrate may be taken anywhere from 0.5 hour to 4 hours before sexual activity. Based on effectiveness and toleration, the dose may be increased to a maximum recommended dose of 100 mg decreased to 25 mg. The maximum recommended dosing frequency is once per day.
SIDE EFFECTS, SAFETY AND TOXICOLOGY
Sildenafil citrate was administered to over 3700 patients (aged 19-87 years) during clinical trials worldwide. Over 550 patients were treated for longer than one year.
In placebo-controlled clinical studies, the discontinuation rate due to adverse events for sildenafil citrate (2.5%) was not significantly different from placebo (2.3%). The adverse events were generally transient and mild to moderate in nature.
In trials of all designs adverse events reported by patients receiving sildenafil citrate were generally similarly. In fixed-dose studies, the incidence of some adverse events increased with dose. The nature of the adverse events in flexile-dose studie, which more closely reflect the recommended dosage regimen,was similar to that for fixed-dose studies. Sildenafil citrate has a proven safety profile. It is the only oral ED therapy with six years of real-world experience. Its cardiovascular safety profile has been demonstrated in tests with thousands of patients.
Sildenafil citrate long-term safety prfile, including frequency, type and severity of side effects, is similar to that reported in short-term, double blind -controlled placebo studies.
Sildenfil citrate is well tolerated in men with cardiovascular disease, including those with angina, high cholesterol and hypertension
Sildenfil citrate is a prescirption medication available only from doctors and should alwlays be used in accordance with its approved labeling. Veetab is contraindicated in patients who use nitrates (which are medications commonly used to treat chest pains) in any form. Combining Veetab with nitrates may cause one's blood pressure to suddenly drop to an unsafe or life-threatening level.
Veetab also has no effect on sperm motility or morphology?
CONTRAINDICATIONS
Sildenafil citrate is not indicated for use in newborns, children, or women
DRUG INTERACTIONS
Cimetidine (800mg), a nonspecific CYP inhibitor, caused a 56 % increase in plasma sildenafil concentrations when co-administered with sildenafil citrate (50mg) to healthy volunteers.
When a single 100 mg dose of sildenafil citratie was administered with erythromycin, a specific CYP3A4 inhibitor, at steady state, there was a 182% increase in sildenafil systemic exposure.
Sildenafil citrate has no interactions with pharmacokinetics of ritonavir.
PRESENTATION
Veetab 100 10 Tablets in a blister pack
Veetab 2×10 Tablets in a blister pack