Zitax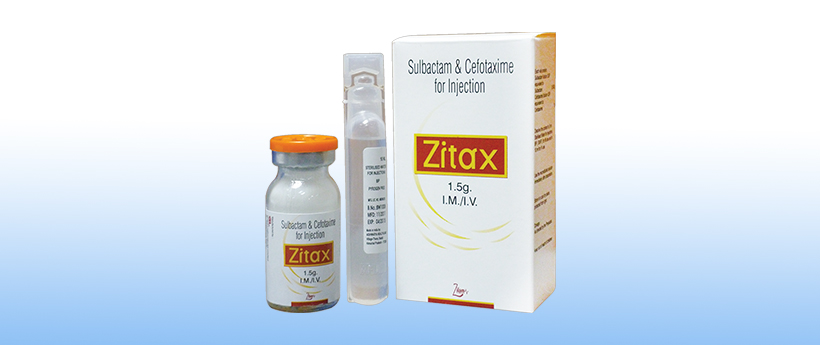 ZITAX
(SULBACTAM & CEFOTAXIME FOR INJECTION)
COMPOSITION:
Each vial contains:
Sulbactam Sodium USP
equivalent to Sulbactam 0.5g
Cefotaxime Sodium USP
equivalent to Cefotaxime 1g
INDICATIONS:
Lower Respiratory Tract Infections
Gastro-intestinal Tract Infections
Genito Urinary Tract Infections
Gynaecological Infections
Skin and Skin structure Infections
Intra-Abdominal Infections
Bone and joint infections
Central nervous system infections
DOSAGE:
Adult: Mild to moderate: 1/0.5 to 2/1g of cefotaxime/sulbactam every 8-12 hours.
Moderate to severe: 1/0.5 to 2/1g of cefotaxime/sulbactam every 6-8 hours.
Children: 100/50 to 150/75mg of cefotaxime/sulbactam per kg b.w.per day in three divided doses.
CONTRAINDICATIONS:
Zitax is contraindicated in patients who have shown hypersensitivity to cefotaxime sodium or the cephalosporin group of antibiotics.
USE IN PREGNANCY
Teratogenic effects were not observed in animal studies; therefore, cefotaxime is classified as pregnancy category B. Cefotaxime crosses the placenta and can be found in fetal tissue. An increased risk of teratogenic effects has not been observed following maternal use. During pregnancy, peak cefotaxime serum concentrations are decreased and the serum half-life is shorter.
LACTATION
Enters breast milk use with caution
SIDE EFFECTS:
Local Reactions: Deep phlebitis after IV injection has been reported.
General Reaction: Skin eruptions, fever, eosinophilia, neutropenia, transient leucopenia and haemolytic anaemia.
Granulocytopenia and agranulocytosis may develop during treatment with cefotaxime, particularly if given over long periods. For cases of treatment lasting longer than ten days, blood counts should therefore be monitored. Cases of diarrhoea have been recorded. The onset of diarrhoea may indicate the appearance of pseudomembraneous colitis, the diagnosis of which should be confirmed by colonoscopy. This occurence requires immediate cessation of administration and treatment with appropriate specific antibiotic therapy. Temporary elevation of transaminases and alkaline phosphatases have been recorded.
WARNING:
ZITAX must be used with caution in penicillin-sensitive subjects. Strict medical supervision is required throughout the treatment.
DIRECTION FOR RECONSTITUTION
Dissolve the content in 5ml Sterilised Water for injection BP (SWFI) for IM use and in 10ml for IV use. Use the reconstituted solution immediately after preparation.
KNOWN SYMPTOMS OF OVERDOSAGE AND PARTICULARS OF ITS TREATMENT:
Treatment should be symptomatic and supportive. In case of overdose, especially in renal impairment, there is a risk of reversible metabolic encephalopathy.
PRESENTATION:
Available as dry powder of 1.5g in a Vial with 10 ml Sterilised Water for Injection BP
STORAGE INSTRUCTIONS:
Store in a cool dry place, protected from light.
Keep out of reach of children
Myanmar Reg.NO: 1609AA3392
Manufactured by:
Galpha Laboratories Limited
At: Village Thana, Baddi,
Himachal Pradesh 173 205. INDIA
Product of
Zifam Pinnacle Pty Ltd,
The Healthcare Group