Zifex plus Dry syrup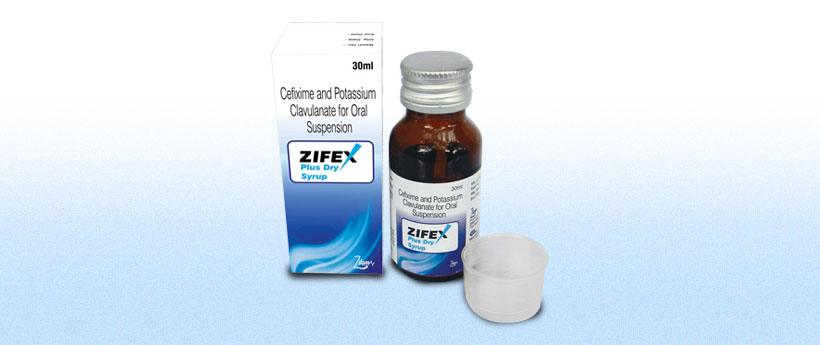 Cefixime and Potassium Clavulanate for Oral Suspension
Composition:
Each 5ml of the reconstituted suspension contains:
Cefaxime USP as Trihydrate equivalent to anhydrous Cefixime……….50mg
Diluted Potassium Clavulanate BP equivalent to Clavulanic Acid       3.125mg
Description
Cefixime is a semisynthetic, third generation cephalosporin antibiotic, effective against a wide spectrum of sensitive Gram positive, Gram negative and anaerobic bacterial pathogens including beta-lactamase producing strains. It has high affinity for penicillin binding proteins with varying site of activity. It acts by inhibition of bacterial cell-wall synthesis.
Clavulanic acid is a naturally derived beta lactamase inhibitor produced by Streptomyces clavuligerus. Clavulanic acid is an irreversible inhibitor of intracellular and extracellular b-lactamases, demonstrating concentration-dependent and competitive inhibition.
Cefixime is found to be ineffective against bacteria which produces ESBL (Extended-Spectrum Beta-Lactamases)enzyme and resistance is seen in such types of bacteria. The combination of cefixime and clavulanic acid (b-lactamases inhibitor) provides a solution for treatment of bacterial infections caused by beta lactam resistant pathogens.
INDICATIONS
Cefixime-Clav should be used only to treat or prevent infections that are proven or strongly suspected to be caused by susceptible bacteria. Cefixime-Clav is indicated for the treatment of:
Uncomplicated Urinary Tract Infections
Otitis Media
Pharyngitis and Tonsillitis
Acute Bronchitis and Acute Exacerbations of Chronic Bronchitis,
Dosage and administration:
Children:
The recommended dose for Cefixime is 8mg/kg/day. This may administered as a single dose or may be given in two divided dose as 4mg/kg every 12 hours.
| | |
| --- | --- |
| Age | Dose |
| 6 month | 2.5ml twice daily |
| 1 year | 4ml twice daily |
| 2 year | 5ml twice daily |
| 3 year | 6ml twice daily |
| 5 year | 7.5 ml twice daily |
Adults and Children over 10 years: One tablet twice daily. The usual course of treatment is 7 days. This may be continued for up to 14 days if required.
ADVERSE EVENTS:
The most frequent side effects seen with Cefixime-Clav are diarrhoea and stool changes. Events like nausea/vomiting, transient elevation in liver transaminases, alkaline phosphatase and jaundice can also occur.
DRUG INTERACTIONS
Carbamazepine: Elevated carbomazepine levels have been reported when cefixime is administered concomitantly.
Warfarin and Anticoagulants: Increased prothrombin time, with or without clinical bleeding, has been reported when cefixime is administered concomitantly.
Oral Contraceptives:Cefixime may interfere with the effectiveness of birth control pills/
Glucose Test: A false positive reaction for glucose in the urine may occur with Benedict's of Fehling's solutions or with copper sulphate test tablets.
Coombs test: A false positive direct Coombs test have been reported during treatment with cephalosporin antibiotics.
 PREGNANCY & LACTATION:
There are no adequate and well-controlled studies in pregnant women. Therefore this combination not be used in pregnancy or in nursing mothers Unless considered essential by the physician
OVERDOSE:
Adverse reactions seen at dose levels up to 2g in normal subjects did not differ from the profile seen in patients treated at the recommended doses.
Gastric lavage may be indicated in overdosage.