Zicet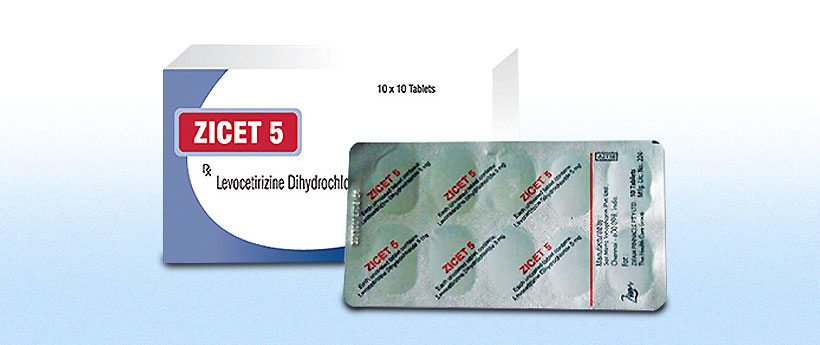 Composition
Each uncoated tablet contains
LevocetirizneDihydrochloride 5 mg
Description
Levocetirizne, the (R) enantiomer of cetirizine, is a potent and selective antagonist of peripheral H1 -receptors 5mg levocetirizine provide a similar pattern of inhibition of histamine-induced wheal and flare than 10mg cetirizine. As for cetirizine, the action on histamine-induced skin reactions was out of phase with the plasma concentrations.
Indications
ZICET 5 is used in the symptomatic treatment of allergic rhinitis (including persistant allergic rhinitis) and chronic idiopathic urticaria.
Dosage
One tablet daily or as advised by Physician
For children aged less than 6 years no adjusted dosage is yet possible.
Adverse effects
The majority of adverse reactions reported have been reversible and of a minor nature.
The most frequent are gastro-intestinal disorders, in particular dyspesia, abdominal pain, nausea and diarrhoea, and occasional occurrence of dizziness. Dermatological complaints including pruritus and rash and abnormal hepatic enzyme and serum creatinine levels have also been reported.
Overdose
Symptoms of overdose may include drowsiness in adults and initially agitation and restlessness, followed by drowsiness in children.
Management of overdoses
There is no known specific antidote to levocetirizine.

Should overdose occur, symptomatic or supportive treatment is recommended. Gastric lavage should be considered following short-term ingestion. Levocetirizine is not effectively removed by haemodialysis.
Contraindications:
Hypersensitivity to levocetirizine, to other piperazine derivatives, or to any of the excipients. Patients with severe renal impairment at less than 10ml/min creatinine clearance.
Precautions
The use of ZICET 5 is not recommended in children aged less than 6 years since the currently available film-coated tablets do not yet allow dose adaptation.
Precaution is recommended with intake of alcohol Patients with rare hereditary problems of galactose intolerance, the Lapp lactase deficiency or glucose galactosemalabsorption should not take this medicine.
Use during pregnancy and lactation
For levocetirizine no clinical data on exposed pregnancies are available. Animal studies do not indicate direct or indirect harmful effects with respect to pregnancy,
embroynal/fetal development, parturition or postnatal development. Caution should be exercised when prescribing to pregnant or lactating women.
Drug Interactions
The individual drugs are not known to have any interactions so far. Hence, no interactions would be excepted with the combination
In sensitive patients the simultaneous administration of levocetirizine and alcohol or
other CNS depressants may have effects on the central nervous system, although it has been shown that the racemate cetirizine does not potentiate the effect of alcohol
PRESENTATON
10 tablets in a blister and 10 blisters in a carton.