Mega 3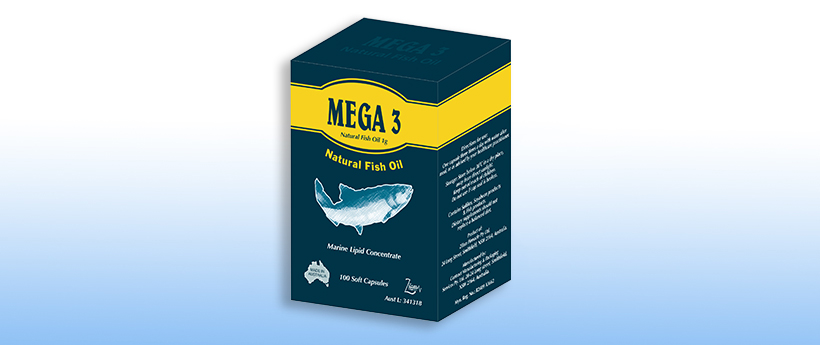 CONTENTS:
Each Soft Capsule contains:
Natural fish oil 1g (1000 mg)
Equiv. Eicosapentaenoic acid (EPA) 180 mg
Equiv. Docosahexaenoic acid (DHA) 120 mg
PHARMACOLOGY:
Essential fatty acids are not produced in the body but obtained from dietary sources only. Mega 3 contains marine triglycerides providing a mixture of eicosapentaenoic acid and docosahexaenoic acid, the omega-3 marine fatty acids. Omega-3 triglycerides are precursors of eicosanoids in fish and, when taken by man, these compete with the precursor arachidonic acid. Their action in man includes reduction in plasma triglycerides, cholesterol and very low-density lipoproteins, an anti-inflammatory action and a fibrinolytic or antiplatelet effect. In addition, these fatty acids are needed for cell membrane structure and can be converted into prostaglandin which help to maintain healthy joints, circulation and heart function. Other components of omega-3 are vitamins A and D, however, very low concentrations, do not offer any therapeutic or prophylactic values even at higher doses. Omega- 3, the main triglycerides, are fully absorbed from the Gl tract in most individuals with normal GI function. These fatty acids are well distributed in the body and stored in the adipose tissues. Alpha-Linolenic acid is converted to eicosapentaenoic acid which is further converted to docosahexaenoic acid and the final product, prostaglandin series 3. These prostaglandins are utilised to assist invarious functions in the body.
INDICATIONS:
Mega 3 contains high quality Natural Fish Oil, which supports healthy cardiovascular system function and maintains general health & wellbeing. It also maintains eye health and supports brain function.
Natural Fish Oil prevents dietary deficiency of Omega-3 essential fatty acid. These Omega-3 fatty acids are not produced by the body and can only be obtained through the diet.
No added sugar, starch, gluten, yeast, artificial colouring, artificial flavoring or preservatives. Tested for mercury and other heavy metals.
Dosage & Directions for use:
1 Capsule 3 times a day with water after meal, provides adequate quantity of omega-3 fatty acids for the health benefits or as directed by the physician.
STORAGE:
Store below 30°C in a dry place, away from direct sunlight.
Keep out of reach of children.
WARNINGS:
Contains Sulfites, Soyabean products & Fish products.
Do not use if cap seal is broken.
Dietary supplements should not replace a balanced diet.
PRECAUTIONS:
Use in pregnancy: No studies have been conducted to determine the safety of Omega-3 during the 1st trimester of pregnancy, therefore, it is recommended that Omega-3 is not prescribed during the 1st trimester of pregnancy unless recommended by the healthcare specialist.
ADVERSE REACTIONS:
Fish oil has been used as dietary supplement without any toxic effects reported even on prolonged use in high dose. At many times over the prescribed dose, no adverse effects were reported. Rarely, diarrhoea is reported with high dose of Omega-3 (6-10 g daily).
PRESENTATION:
Pack of 10/30/60/100/300 and 3×10's capsules.