B-Active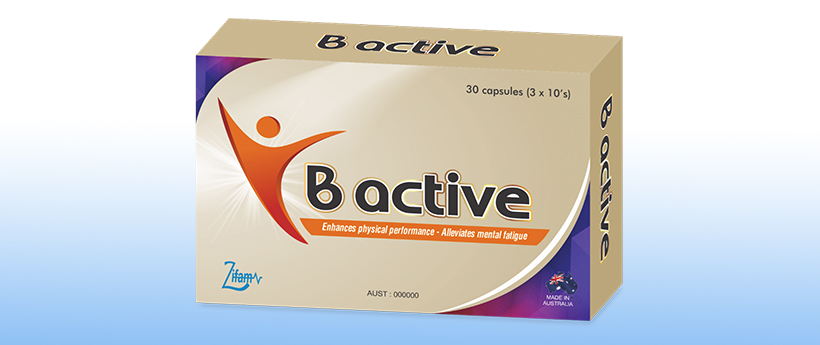 B ACTIVE
Zifam Pinnacle
MIMS Classification(s): 30e Vitamins &/or Minerals
CONTENTS: Multivitamins and minerals, with Rhodiola rosea extract, inositol, choline bitartrate.

PRESENTATION: Cap 3 x 10's.

DESCRIPTION: Each capsule contains: Rhodiola rosea extract equiv to dry root 800 mg, Ascorbic acid (Vitamin C) 70 mg, Thiamine hydrochloride (Vitamin B1) 50 mg, Riboflavine (Vitamin B2) 15 mg, Nicotinamide (Vitamin B3) 75 mg, Calcium pantothenate 50 mg equiv. to Pantothenic acid (Vitamin B5) 45.8 mg, Pyridoxine hydrochloride (Vitamin B6) 25 mg equiv. to Pyridoxine 20.6 mg, Mecobalamin (Co-methylcobalamin) 1000 µg (1 mg), Folic acid 250 µg, Inositol 25 mg, d-alpha-tocopheryl acid succinate 15 mg equiv. to d-alpha-tocopheryl acid succinate (Natural Vitamin E) 18.15 IU, Biotin 50 µg, Choline bitartrate 25 mg, Magnesium oxide-heavy 16.6 mg equiv. to Magnesium 10 mg, Potassium gluconate 50 mg equiv. to Potassium 8.3 mg.

INDICATIONS/USES: B active may assist in the improvement of general well-being and may be beneficial during times of stress. B active may improve energy and mood levels, relieve tension, stress and mild anxiety and stress adaptation. B active may reduce stress related fatigue and may promote vitality and stamina. B active may improve sleep and may reduce mental fatigue during times of stress and physical endurance. B active may assist in relieving symptoms of environmental stress and stress adaptation.

DOSAGE & ADMINISTRATION: 1 capsule twice daily or as directed by a healthcare practitioner. To be swallowed with water.

WARNINGS: Vitamin supplements should not replace a balanced diet.

If symptoms persist, consult a healthcare practitioner.

STORAGE: Store below 30°C, away from direct sunlight.
ကုန်စည်အမျိုးအမည်
စိတ်ဖိစီးမှုနှင့် အခြားသောဖိစီးမှုများကြောင့် နုံးခွေမောပန်း၊ အားအင်ကုန်ခန်းခြင်းကို လျော့ကျသက်သာ ပျောက်ကင်းစေပြီး၊ စွမ်းဆောင်ရည် မြင့်တက်စေ၍ သက်လုံကောင်းစေသည့် သဘာဝဆေးဖက်ဝင် အပင်များ နှင့် ဗီတာမင်များဖြင့် ပေါင်းစပ်ထုတ်လုပ်ထားသော သောက်ဆေးဖြစ်သည်။
သုံးစွဲပုံအညွှန်း
တစ်ခါသောက်လျှင် တစ်လုံး၊ တစ်နေ့ နှစ်ကြိမ် သောက်ပါ။(သို့မဟုတ်) ဆရာဝန်ညွှန်ကြားချက်အတိုင်း သောက်ပါ။
ဆေးကို ရေနှင့်အတူ မျိုချရန်။
သတိပေးချက်
နေ့စဉ်စားသောက်နေသော အစားအစာများ အစားထိုးအနေဖြင့် ဗီတာမင်ဖြည့်စွက်စာများကို သောက်သုံးခြင်း မပြုရ။
တစ်စုံတစ်ရာ လက္ခဏာများ ဖြစ်ပေါ်ပါက ဆရာဝန်နှင့်တိုင်ပင်ပါ။
ထားသိုသိမ်းဆည်းပုံအညွှန်း
အပူချိန် (၃၀) ဒီဂရီစင်တီဂရိတ်အောက်၊ နေရောင်နှင့်တိုက်ရိုက် မထိသောနေရာတွင် ထားရန်။
ကလေးများလက်လှမ်း မမီသောနေရာတွင်ထားပါ။
အရွယ်အစား၊ အရေအတွက် နှင့် အသားတင်ပမာဏ
ဆေးတစ်ကတ်စီတွင် ဆေးတောင့် (၁၀)တောင့် ပါဝင်ပြီး ဆေးကတ်(၃)ကတ်ပါဝင်သော ကတ်ထူစက္ကူဘူး ဖြင့် ထုတ်ပိုးထားသည်။