Clovix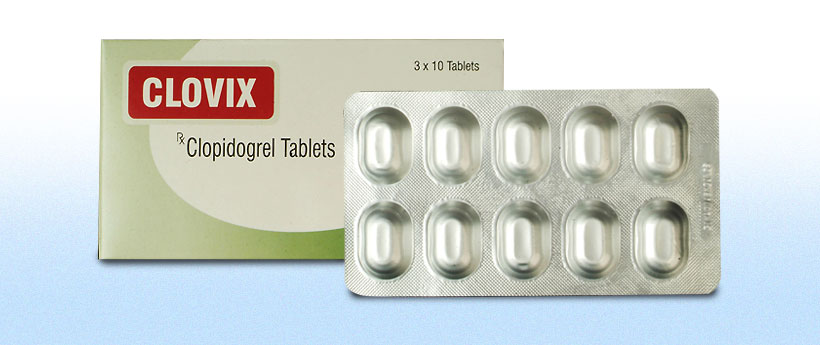 PRESENTATION
Film coated tablet 75mg x 10's x 3 strips
Description
CLOVIX (Clopidogrel Hydrogen Sulphate) is an inhibitor of ADP induced platelet aggregation acting by direct inhibition of adenosine diphosphate (ADP), binding to its receptor and of the subsequent ADP, mediated activation of the glycoprotein GPIIb/IIIa complex.
Clopidogrel is an inhibitor of platelet aggregation. A variety of drugs that inhibit platelet function have been shown to decrease morbid events in people with established atherosclerotic cardiovascular disease as evidenced by stroke or transient ischemic attacks, myocardial infarction, or need for bypass or angioplasty. This indicates that platelets participate in the initiation and/or evolution of these events and that inhibiting them can reduce the event rate.
Indications
CLOVIX (Clopidogrel Hydrogen Sulphate) is indicated for the reduction of atherosclerotic events (myocardial infarction, stroke, and vascular death) in patients with atherosclerosis documented by recent stroke, recent myocardial infarction, or established peripheral arterial disease.
Contraindications
The use of CLOVIX is contraindicated in the following conditions:
Hypersensitivity to the drug substance or any component of the product
Active pathological bleeding such as peptic ulcer or intracranial hemorrhage.
DOSAGE AND ADMINISTRATION
The recommended dose of CLOVIX is 75mg once daily with or without food. No dosage adjustment is necessary for elderly patients or patients with renal disease.
Special Precaution: Trauma, surgery, or other pathological conditions, ulcer, severe hepatic disease.
Drug Interaction
Coadministration of clopidogrel with NSAIDs may increase the risk of stomach and intestinal bleeding.
At high conc. In the blood, clopidogrel inhibits the activity of enzyme that metabolites warfarin. This could lead to an increase in levels of warfarin and increase the risk of bleeding due to over thinning of the blood. High doses of Clopidogrel inhibit P450 (2C9). Clopidogrel may interfere with the metabolism of phenytoin, tamoxifen, tolbutamide, warfarin, tooresmide, fluvastatin and many NSAIDs. Caution should be taken when administration of clopidogrel with these agents.
Adverse Reactions
Life Threatening: Bleeding and gastrointestinal hemorrhage.
Others: Serious events include bleeding and gastrointestinal hemorrhage. GI upset, diarrhea, pruritus, headache, dizziness and rashes.
OVERDOSAGE
A single oral dose of Clopidogrel at 1500 or 2000mg/kg was lethal to mice and to rats and at 3000 mg/kg to baboons.
Symptoms of acute toxicity were vomiting (in baboons), prostration, difficult breathing, and gastrointestinal hemorrhage in all species.
Recommendations about Specific Treatment: Based on biological plausibility, platelet transfusion may be appropriate to reverse the pharmacological effects of CLOVIX if quick reversal is required.
Use in Pregnancy and Lactation
Pregnancy Category B. There are no adequate and well controlled studies in pregnant women. Because animal reproduction studies are not always predictive of a human response, CLOVIX should be used during pregnancy only if clearly needed.
Nursing Mothers
It is not known whether this drug is excreted in human milk. Because many drugs are excreted in human milk and
because of the potential for serious adverse reactions in nursing infants, a decision should be made whether to discontinue nursing or to discontinue the drug, taking into account the importance of the drug to the nursing woman.
Pediatric Use
Safety and effectiveness in the pediatric population have not been established.