Lipidan10/20/40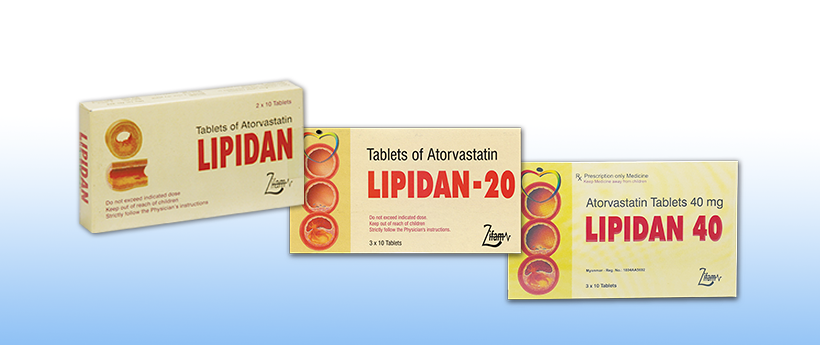 COMPOSITION
Atorvastatin calcium 10mg, 2 x 10's
Atorvastatin calcium 20mg , 3 x 10's
Atorvastatin calcium 40mg , 3 x 10's
DESCRIPTION
Atorvastatin calcium is a synthetic lipid-lowering agent, which is an inhibitor of 3-hydroxy-3-methylglutaryl-coenzyme A (HMG-COA) reductase.
Mechanism of Action
Atorvastatin is a selective, competitive inhibitor of HMG-CoA reductase, the rate-limiting enzyme responsible for the conversion of 3-hydroxy-3-methylglutaryl-coenzyme A to mevalonate, a precursor to sterols, including cholesterol. Atorvastating lowers plasma cholesterol and lipoprotein levels by inhibiting HMG-CoA reductase and cholesterol synthesis in the liver and by increasing the number of hepatic LDL receptors on the cell surface for enhanced uptake and catabolism of LDL. Atorvastatin reduces LDL production and the number of LDL particles. Atorvastatin produces a profound and sustained increase in LDL receptor activity coupled with a beneficial change in the quality of circulating LDL particles. Atorvastatin is effective in reducing LDL in patients with homozygous familial hypercholesterolemia, a population that has not normally responded to lipid lowering medication.
INDICATIONS
As an adjunct to diet for the reduction of elevated total cholesterol, LDL-cholesterol, apolipoprotein B and triglycerides in patients with primary hypercholesterol-emia, mixed hyperlipidemia and heterozygous and familial hypercholesterolemia. Also for reduction of elevated total cholesterol and LDL-cholesterol in patients with homozygous familial hypercholesterolemia as an adjunct to other lipid-lowering treatment (eg.LDL-apheresis, cholestyramine) or if such treatment are unavailable.
DOSAGE & ADMINISTRATION
The patient should be placed on a standard cholesterol-lowering diet before receiving atorvastatin and should continue this diet during treatment with atorvastatin.
The usual starting dose is 10 mg once a day. The dosage range is 10-80 mg once daily. Dose may be given anytime of the day with or without food. Dosage should be individualized according to baseline LDL-C levels, the goal of therapy and patient response. After initiation and/or upon titration of atorvastatin, lipid levels should be analyzed within 2-4 weeks, and dosage adjusted accordingly.
Primary Hypercholesterolemia and Mixed Hyperlipidemia: The major of patients are controlled with 10 mg atorvastatin once a day. A therapeutic response is evident within 2 weeks, and the maximum response is usually achieved within 4 weeks. The response is maintained during chronic therapy.
Risk Factor Affecting Therapy: EAS: Modifiable Risk Factors: Hypertension, cigarette smoking, diabetes mellitus, obesity, low HDL-C, high fibrinogen. Other Factors: Family history of CHD or peripheral vascular disease, personal history of CHD, especially if revascularization procedures are required, male sex, postmenopausal status in women.
Homozygous Familial Hypercholesterolemia: Adults: In a compassionate-use study of patients with homozygous familial hypercholesterolemia, most patients responded to 80 mg of atorvastatin with >15% reduction in LDL-C (18-45%).
Dosage in Patients With Renal Insufficiency: Renal disease has no influence on the plasma concentrations or on the LDL-C reduction of atorvastatin: thus, no adjustment of the dose is required.
OVERDOSAGE
There is no specific treatment for atorvastatin overdosage. Should an overdosage occur, the patients should be treated symptomatically and supportive measures instituted. Hemodialysis is not expected to significantly enhance atorvastatin clearance.
CONTRAINDICATIONS
Patients who are hypersensitive to any component of Lipidan, who have active disease or unexplained persistent elevations of serum transaminases exceeding 3 times the upper limit of normal, who are pregnant, who are breast-feeding, or in women of childbearing potential who are not using adequate contraceptive measures.
WARNINGS: Hepatic Effects: As with other lipid-lowering agents of the same class moderate (3x upper limit of normal (ULN) transient elevations of serum transminases have been reported following therapy with atorvastatin. Increases were generally not associated with jaundice or other clinical signs of symptoms. Liver function tests should be performed before the initiation of treatment and periodically thereafter. Should an increase in ALT or AST of >3times the upper limit of normal persist, reduction or dose or withdrawal of atorvastatin is recommended. Atorvastatin should be used with caution in chronic alcholices and/or have a history of liver disease.
Patients should be advised to report promptly unexplained muscle pain, tenderness or weakness, particularly if accompanied by malaise or fever. Atorvastatin therapy should be discontinued.
Atorvastatin therapy should be temporarily withheld or discontinued in any patient with an acute, serious conditions suggestive of a myopath or renal failure.
ADVERSE EFFECTS
Atorvastatin is generally well tolerated. Adverse reactions have usually been mild and transient, less than 2% of patients were discontinued from clinical trials due to adverse effects attributed to atorvastatin.
The most frequent (³ 1%)adverse effects associated with atorvastatin therapy were constipation, flatulence, dyspepsia, abdominal pain, headache, nausea, myalgia, asthenia, diarrhea insomnia. The following additional adverse effects have been reported in atorvastatin clinical trials; Through rarely Angionneurotic edema, muscle cramps, myositis, myopathy, paresthesia, peripheral neuropathy, pancreatitis, hepatitis, cholestatic jaundice, anorexia, vomiting, alopecia, pruritus, rash, impotence and hypoglycemia. Not all effects listed have necessarily been associated with atorvastatin therapy.
DRUG INTERACTIONS
The risk of myopathy during treatment with other drugs in this class is increased with concurrent administration of cyclosporine, fibric acid derivatives, erythromycin, azole, antifungals or niacin.
Antacid: Co-administration of atorvatastin with an oral antacid suspension containing magnesium and aluminium by approximately 35%; however, LDL-C reduction was not altered. Cholestyramine: Plasma concentrations of atorvastatin were lower (approximately 25%) when colestipol was administered with atorvastatin. However, lipid effects were greater when atorvastatin and cholestyramine were co-administerd then when either drug was given alone. Digoxin: Co-administration of multiple doses of atorvastatin and digoxin increased steady-state plasma digoxin concentrations by approximately 20%. Patients taking digoxin should be monitored appropriately. Erythromycin: In health individuals, co administration of erythromycin (500 mg 4 times daily) a known inhibitor cytochrome P-450 3A4, was associated with higher plasma concentrations of atorvastatin. Oral Contraceptives: Co-administration with an oral contraceptive containing norethindrone and ethinylestradiiol by approximately 30% and 20%. These increases should be considered when selecting an oral contraceptive for a woman taking atorvastatin. Atorvastatin interaction studies with warfarin and with cimetidine were conducted, and no clinically significant interactions was seen. Other concomitant Therapy: In clinical studies, atorvastatin was used concomitantly with antihypertensive agents and estrogen replacement therapy without evidenc of clinically significant adverse interactions.