Zinner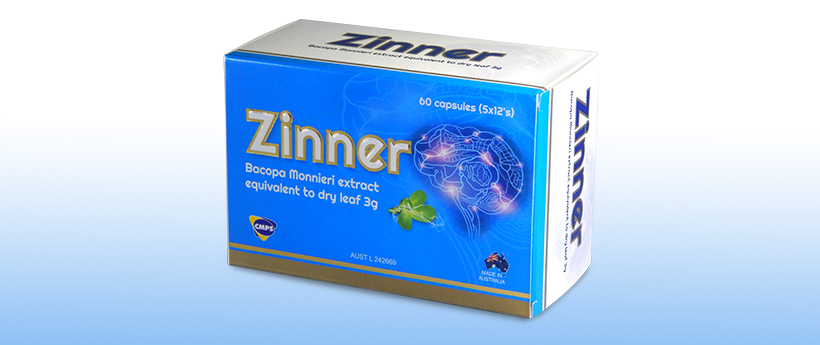 Zinner 5×12's
Contents
Bacopa monnieri leaf extract 20:1 150 mg (equiv. to dry leaf 3 g)
Indications / Uses
Zinner contains Bacopa monnieri extract, which has been traditionally used as a natural tonic for mind and to help relieve nervous tension, stress and mild anxiety. Zinner may help relieve stress of study or work and may improve stress adaptation.
Zinner aids, assists or helps in the maintenance or improvement of general well-being.
Dosage / Direction for Use
1 capsule, two times a day or as recommended by healthcare practitioner.
Warnings
If symptoms persist, seek advice from a healthcare practitioner.
Storage
Store below 30°C, away from direct sunlight.
Description
Each capsule contains Bacopa monnieri leaf extract 20:1 150 mg (equiv. to dry leaf 3 g).
Bacopa monniera, also referred to as Bacopa monnieri, Herpestis monniera, water hyssop, and "Brahmi," has been used in the traditional system of medicine for centuries.
Historically, it was used as a brain tonic to enhance memory development, learning and concentration, and to provide relief to patients with anxiety or epileptic disorders.
Recent research has focused primarily on Bacopa's cognitive-enhancing effects, specifically memory, learning, and concentration and results also support the traditional claims. The triterpenoid saponins and their bacosides are responsible for Bacopa's ability to enhance nerve impulse transmission. The bacosides aid in repair of damaged neurons by enhancing kinase activity, neuronal synthesis, restoration of synaptic activity and ultimately nerve impulse transmission.
Supplements & Adjuvant Therapy
ATC Classification
A13A – TONICS; Used as tonics.
Presentation / Packing
Cap 150 mg x 5 x 12's.
Manufacturer
Distributor
ကုန်စည်အမျိုးအမည်
သဘာဝဆေးဖက်ဝင်အပင် Bacopa monniena မှ ထုတ်လုပ်ထား၍ မှတ်ဉာဏ်ကောင်းခြင်း၊ လေ့လာသင်ယူမှု နှင့် စိတ်စူးစိုက်မှုအားကောင်းခြင်း စသည့် အကျိုးကျေးဇူးများ ပေးနိုင်သည့် ဦးနှောက်အားတိုးဆေး ဖြစ်သည်။
သုံးစွဲပုံအညွှန်း
တစ်ခါသောက်လျှင် တစ်လုံး၊ တစ်နေ့နှစ်ကြိမ် သောက်ပါ။ (သို့မဟုတ်) ဆရာဝန်ညွှန်ကြားချက် အတိုင်း သောက်ပါ။
သတိပေးချက်
တစ်စုံတစ်ရာလက္ခဏာများဖြစ်ပေါ်ပါက ဆရာဝန်နှင့်ပြသပါ။
ထားသိုသိမ်းဆည်းပုံအညွှန်း
အပူချိန် (၃၀) ဒီဂရီစင်တီဂရိတ်အောက်၊ နေရောင်နှင့်တိုက်ရိုက် မထိသောနေရာတွင် ထားပါ။
အရွယ်အစား၊ အရေအတွက် နှင့် အသားတင်ပမာဏ
ဆေးတစ်ကတ်စီတွင် ဆေးတောင့်(၁၂)တောင့် ပါဝင်ပြီး ဆေးကတ်(၅)ကတ်ပါဝင်သော ကတ်ထူစက္ကူဘူး ဖြင့် ထုတ်ပိုးထားသည်။