Ziglip 50/100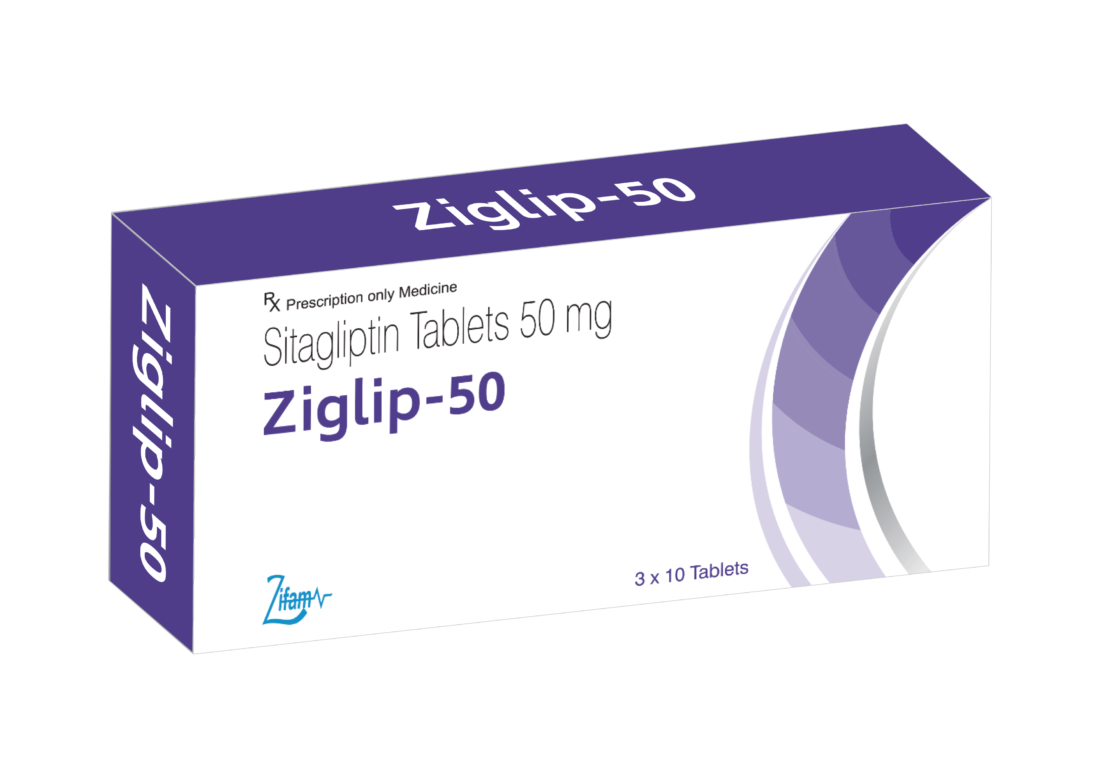 Sitagliptin Tablets 50mg
COMPOSITION:
Each Film-Coated Tablet Contains:
Sitagliptin Phosphate
Monohydrate…………………………………64.25mg
Equivalent to Sitagliptin………………..50 mg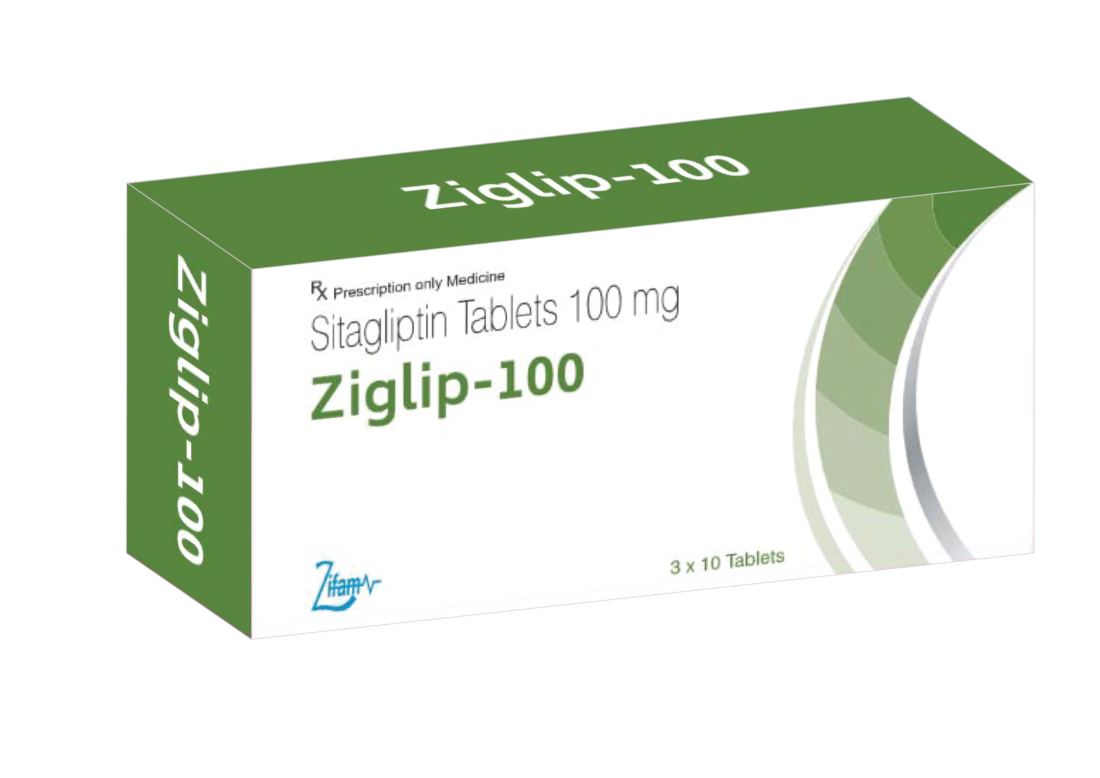 Sitagliptin Talbets 100mg
COMPOSITION:
Each Film-Coated Tablet Contains:
Sitagliptin Phosphate
Monohydrate………………………………..128.50 mg
Equivalent to Sitagliptin……………….100 mg
Ziglip-50/100
PHARMACOLOGICAL CATEGORY:
Oral Hypoglycaemic
ATC code: A10BH01
PHARMACOLOGICAL ACTION:
Sitagliptin is a highly selective DPP-4 inhibitor, which is believed to exert its actions in patients with type 2 diabetes by slowing the inactivation of incretin hormones, thereby increasing the concentration and prolonging the action of these hormones.
Incretin hormones, including glucagon-like peptide-1 (GLP-1) and glucose-dependent insulinotropic polypeptide (GIP), are released by the intestine throughout the day, and levels are increased in response to a meal. These hormones are rapidly inactivated by the enzyme, DPP-4. The incretions are part of an endogenous system involved in the physiologic regulation of glucose homeostasis.
When blood glucose concentrations are normal or elevated, GLP-1 and GIP increase insulin synthesis and release from pancreatic beta cells by intracellular signaling pathways involving cyclic AMP. GLP-1 also lowers glucagon secretion from pancreatic alpha cells, leading to reduced hepatic glucose production. By increasing and prolonging active incretin levels, Sitagliptin increases insulin release and decreases glucagon levels in the circulation in a glucose- dependent manner. These changes lead to a decrease in hemoglobin A1c (HbA1c)levels, as well as a lower fasting and postprandial glucose concentration. Sitagliptin demonstrates selectivity for DPP-4 and does not inhibit DPP-8 or DPP-9 activity in vitro at concentrations approximating those from therapeutic doses.
INDICATIONS:
Treatment of Type 2 diabetes in patients who cannot control blood sugar levels by diet and exercise alone. It may be used alone or with other anti-diabetic medicines.
CONTRAINDICATIONS:
Hypersensitivity
WARNINGS:
General
It should not be used in patients with type 1 diabetes or for the treatment of diabetic ketoacidosis.
PRECAUTIONS:
Pancreatitis
If pancreatitis is suspected, Sitagliptin Posphate monohydrate and other potentially suspect medicinal products should be discontinued.
Renal impairment
Sitagliptin Phosphate Monohydrate is renally excreted. To achieve plasma concentrations, similar to those in patients with normal renal function, lower dosages are recommended in patients with moderate and severe renal impairment, as well as in ESRD patients requiring haemodialysis or peritoneal dialysis.
DRUG INTERACTIONS:
Metformin: Co-administration of multiple twice-daily doses of 1,000 mg Metformin with 50mg Sitagliptin did not meaningfully after the pharmacokinetics of Sitagliptin in patients with type 2 diabetes.
Ciclosporin: Co-administration of a single 100 mg oral dose of Sitagliptin and a single 600mg oral dose of Ciclosporin increased the AUC and Cmax of Sitagliptin by approximately 29% and 68%, respectively. These changes in Sitagliptin pharmacokinetics were not considered to be clinically meaningful. The renal clearance of Sitagliptin was not meaningful interactions would not be expected with other p-glycoprotein inhibitors.
Digoxin: Sitagliptin had a small effect on plasma Digoxin concentrations. However, patients at risk of Digoxin toxicity should be monitored for this when Sitapliptin and Digoxin are administered concomitantly.
DOSAGE:
Two tablets a day – Ziglip-50; One tablet a day-Ziglip-100
USE IN PREGNANCY:
Studies in animals have shown reproductive toxicity at high doses. The potential risk for human is unknown. Due to lack of human data, Sitagliptin Phosphate Monohydrate should not be used during pregnancy.
LACTATION:
It is unknown whether Sitagliptin is excreted in human breast milk. Animal studies have shown excretion of Sitagliptin in breast milk. Sitagliptin Phosphate Monohydrate should not be used during breast-feeding.
SIDE EFFECTS:
The most commonly reported adverse reactions during treatment are diarrhea, headache, nausea, symptoms of upper respiratory infection (e.g. cough, runny or stuffy nose, sneezing, and sore throat), upset stomach.
OVERDOSE:
Usual supportive measures, e.g., remove unabsorbed material from the gastrointesinal tract, employ clinical monitoring (including obtaining an electrocardiogram) and institute supportive therapy if required.
STORAGE: Store below 30 ° C in a dry place. Protect from light.
PRESENTATION: 1×10's, 3×10's, 10×10's Blisters, 30's, 100's HDPE Container