ZIFTRA 100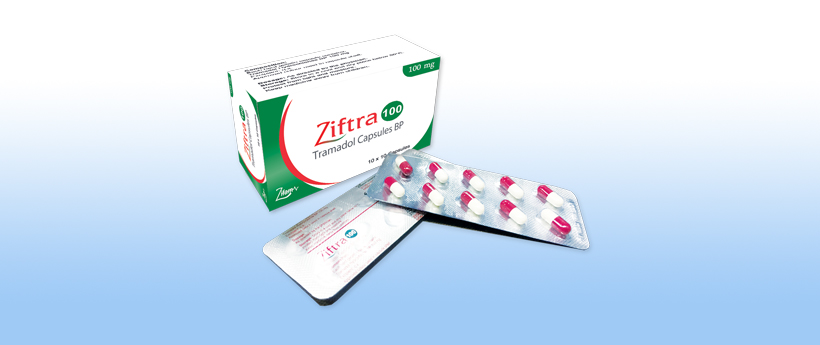 Composition:
Each hard gelatin capsule contains:
Tramadol Hydrochloride BP 100 mg
Excipients: q.s
Approved colour used in capsule shell.
Pharmacological action:
Tramadol a cyclohexanol derivative, is a centrally acting opioid analgesic. It is non-selective pure agonist at m, d and k opioid receptors with a higher affinity for the m
Other mechanisms which contribute to its analgesic effect are inhibition of neuronal reuptake of noradrenalin and enhancement of serotonin release. Tramadol appears to modify the transmission of pain impulses by inhibition of monoamine reuptake.
The duration of analgesia with orally administered Tramadol has been shown to be 3-6 hours with maximum pain relief at 1-4 hours post-dosing. Tramadol also has an antitussive action but has no effect on gastrointestinal motility. At the recommended dosages, the effects of Tramadol given orally on the respiratory and cardiovascular systems appear to be clinically insignificants.
Therapeutic category: Centrally acting opioid analgesic.
Therapeutic Indications:
Management (treatment and prevention) of moderate to severe pain.
Posology and Method of administration:
Route of administration: Oral
Adults:
Acute pain
An initial dose of 100 mg is usually necessary. This can be followed by doses of 50 mg or 100 mg not more frequently than 4 hourly, and duration of therapy should be matched to clinical need.
Pain associated with chronic conditions
Use can initial dose of 50 mg and then titrate dose according to pain severity. The need for continued treatment should be assessed at regular intervals as withdrawal symptoms and dependence have been reported, although rarely.
A total daily oral dose of 400 mg should not be exceeded except in special clinical circumstances.
Geriatric patients
A dose adjustment is not usually necessary in patients up to 75 years without clinically manifest hepatic or renal insufficiency. In elderly patients over 75 years elimination may be prolonged. Therefore, if necessary the dosage interval is to be extended according to the patient's requirements.
Renal insufficiency/ Dialysis and hepatic impairment
In patients with renal and/or hepatic insufficiency the elimination of Tramadol is delayed. In these patients prolongation of the dosage intervals should be carefully considered according to the patient's requirement.
Children:
Over 12 years:
Dosage as for adults
Under 12 years:
Not recommended
Contraindications:
Tramadol should not be administered to patients who have previously demonstrated hypersensitivity to it or in cases of acute intoxication with alcohol, hypnotics, centrally acting analgesics, opioid or psychotropic drugs.
In common with other opioid analgesics it should not be administered to patients who are receiving monoamine oxidase inhibitors or within two weeks of their withdrawal.
It should not be given to patients suffering from uncontrolled epilepsy.
It must not be used for narcotic withdrawal treatment.
Warning & Precautions:
Warnings
At therapeutic doses, Tramadol has the potential to cause withdrawal symptoms. Rarely, cases of dependence and abuse have been reported.
In patients with a tendency to drug abuse or dependence, treatment should be for short periods and under strict medical supervision.
Tramadol is not suitable as a substitute in opioid-dependent patients. Although it is an opioid agonist, Tramadol cannot suppress morphine withdrawal symptoms.
Convulsions have been reported at therapeutic doses and the risk may be increased at doses exceeding the usual upper daily dose limit. Patients with a history of epilepsy or those susceptible to seizures should only be treated with Tramadol if there are compelling reasons.
Precautions
Tramadol should be used with caution in patients with head injury, increased intracranial pressure, and severe impairment of hepatic and renal function and in patients prone to convulsive disorders or in shock.
Care should be taken when treating patients with respiratory depression, or if concomitant CNS depressant of respiratory depression cannot be excluded in these situations. At therapeutic doses, respiratory depression has infrequently been reported.
In one study, use of Tramadol during general anesthesia with enflurane and nitrous oxide was reported to enhance intraoperative recall, so Tramadol during light planes of general anesthesia should be avoided.
Pregnancy and Lactation:
Pregnancy
Animal studies with Tramadol revealed at very high doses effects on organ development, ossification and neonatal mortality.
Animal studies (rat and rabbit, exposure to Tramadol up to 7 times that expected in man) have not revealed teratogenic effects and minimal embryo toxicity (delayed ossification). Fertility, reproduction performance and development of offspring were unaffected. Tramadol crosses the placenta. There is inadequate evidence available on the safety of Tramadol in human pregnancy; therefore Tramadol should not be used in pregnant women.
Lactation
During lactation about 0.1% of the maternal dose is secreted into the milk.
Tramadol is not recommended during breast-feeding. After a single administration of Tramadol it is not usually necessary to interrupt breast-feeding.
Adverse effects:
The most commonly reported adverse reaction are nausea and dizziness, both occurring in more than 10% of patients.
The frequencies are defined as follows:
Very common: 1/10, Common: 1/100, <1/10, Uncommon: 1/1000, <1/100, Rare: 1/10000, <1/1000, Very rate: <1/10000
Blood and lymphatic system disorders
There have also been cases of blood dyscrasias observed with Tramadol treatment, but direct causality has not been confirmed.
Psychiatric disorders:
Rare: sleep disturbance, anxiety, confusion, nightmares and hallucinations, have been reported. Psychic adverse reactions may occur following administration of Tramadol which vary individually in intensity and nature.
Dependence: Prolonged administration of Tramadol may lead to dependence.
Nervous system disorders:
Very common: dizziness
Common: headache and drowsiness
Rare: Changes in appetite, paraesthesia, tremor, respiratory depression, involuntary muscle contractions abnormal coordination. Epileptiform convulsins have been reported occurring mainly after administration of high doses of Tramadol of after treatment with drugs which can lower the seizure threshold or themselves induce cerebral convulsions.
Eye disorders:
Rare: blurred vision
Cardiovascular disorders:
Uncommon: cardiovascular, flushing
Rare: bradycardia, hypertension.
Respiratory, thoracic and mediastinal disorders:
Rare: dyspnea
Worsening of asthma has been reported, though a causal relationship has not been established.
Gastrointestinal disorders:
Very common: nausea
Common: vomiting, constipation and dry mouth.
Uncommon: retching: gastrointestinal irritation (a feeling of pressure in the stomach, bloating), diarrhea
Hepatobiliary disorders:
In a few isolated cases an increase in liver enzyme values has been reported in a temporal connection with the therapeutic use of Tramadol.
Skin and subcutaneous tissue disorders:
Common: sweating
Uncommon: dermal reactions (e.g. pruritus, rash, urticarial)
Muscloskeletal disorders:
Rare: motorial weakness
Renal and urinary disorders:
Rare: micturition disorders (difficulty in passing urine, dysuria and urinary retention)
General disorders and administration site conditions:
Common: fatigue
Immune system disorders
Rare hypersensitivity and anaphylaxis
Drug interactions:
Tramadol should not be combined with MAO inhibitors.
Concomitant administration of Tramadol with other centrally acting drugs including alcohol may potentiate CNS depressant effect
The results of pharmacokinetic studies have so far shown that on the concomitant or previous administration of Cimetidine clinically relevant interactions are unlikely to
The combination with mixed agonist/antagonists (e.g. buprenorphine, nalbuphine, pentazocine) and Tramadol is not advisable, because the analgesic effect of a pure agonist may be theoretically reduced in such circumstances.
Withdrawal of the serotonergic drugs usually brings about a rapid improvement. Treatment depends on the type and severity of the symptoms.
Simultaneous administration of carbamazepine markedly decreases serum concentrations of Tramadol to an extent that a decrease in analgesic effectiveness and a shorter duration of action may occur.
Tramadol can induce convulsion and increase the potential for selective serotonin-nor epinephrine reuptake inhibitors (SSRIs), serotonin-nor epinephrine reuptake inhibitors (SNRIs), tricyclic antidepressants, antipsychotics and other seizure threshold-lowering medicinal products (such as bupropion, mirtazapine, tetrahydrocannabinol) to cause convulsions.
There is a theoretical possibility that Tramadol could interact with nor adrenaline, 5HT or lithium due to their respective mechanisms of action, thus potentiate their anti-depressant effect. However there have been no reports of such interactions.
Caution should be exercised during concomitant treatment with Tramadol and Coumarin derivatives (e.g. Warfarin) due to reports of increased INR and ecchymoses in some patients.
Overdosage:
Symptoms of overdosage are typical of other opioid analgesics, and include miosis, vomiting, cardiovascular collapse, sedation and coma, seizures and respiratory depression up of respiratory arrest.
Treatment
The general emergency measures apply. Keep open the respiratory tract (aspiration), maintain respiration and circulation depending on the symptoms. The antidote for respiratory depression is naloxone. In animal experiments naloxone had no effect on convulsions. In such cases diazepam should be given intravenously.
In case of intoxication orally, gastrointestinal decontamination with activated charcoal or by gastric lavage is only recommended within 2 hours after tramadol intake.
PHARMACEUTICAL INFORMATION:
Storage conditions:
Store in a cool and dry place below 30 C.
Protect from light and moisture.
Keep Medicine away from children.
Shelf Life: 36 months
Pack size: Blister Pack of 10 Capsules