Zifam Sovir Tablet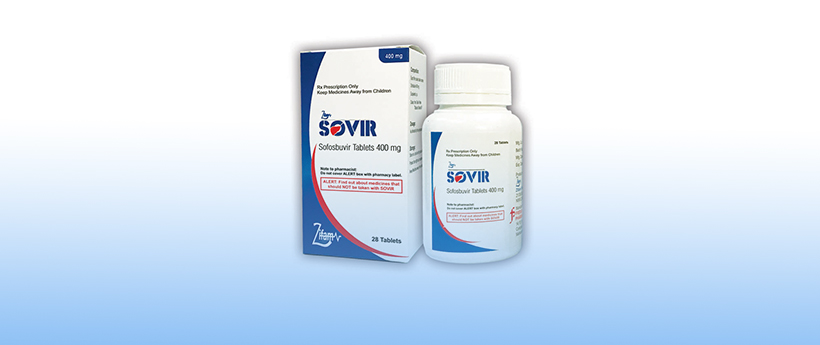 Composition:
Each film coated tablet contains:
Sofosbuvir 400 mg
Excipients: q. s
Colour: Iron oxide yellow, Titanium dioxide BP

Pharmacological action:
i) Sofosbuvir is a direct-acting antiviral agent against the hepatitis C virus.
ii) It is an inhibitor of the HCV NS5B RNA-dependent RNA polymerase, which is essential for viral replication. It is a
nucleotide prodrug that undergoes intracellular metabolism to form the pharmacologically active uridine analog triphosphate (GS-461203), which can be incorporated into HCV RNA by the NS5B polymerase and acts as a chain terminator.
Therapeutic category:
Antiviral drug
Therapeutic Indication:
i) Sofosbuvir is Hepatitis C virus (HCV) nucleotide analog NS5B polymerase inhibitor indicated for the treatment of chronic hepatitis C (CHC) infection as a component of a combination antiviral treatment regimen.
ii) Sofosbuvir efficacy has been established in subjects with HCV genotype 1, 2, 3 or 4 infections, including those with hepatocellular carcinoma meeting Milan criteria (awaiting liver transplantation) and those with HCV/HIV-1 co-infection
Posology and Method of administration:
Route of administration: Oral

i) The recommended dose is one 400 mg tablet, taken orally, once daily with or without food .
ii) lt should be used in combination with ribavirin or in combination with pegylated interferon and ribavirin for the treatment of Chronic Hepatitis C Infection (CHC) in adults.