Urisol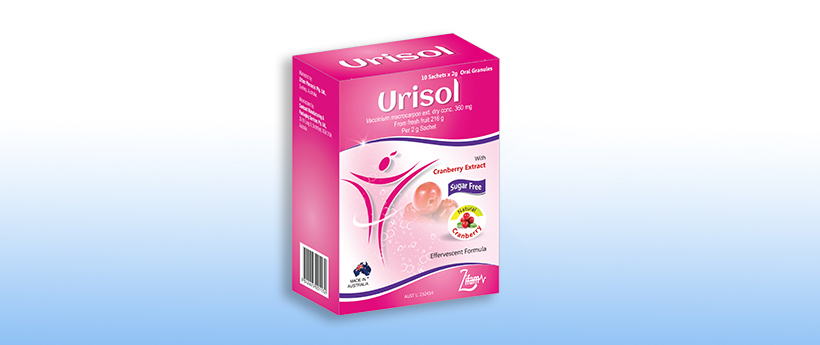 Each 2 g of Sachet of Urisol Contains:
Vaccinium macrocarpon (Cranberry)
fruit extract dry conc. ……………………………. 360 mg
Equiv.lo Vaccinium macrocarpon
fresh fruit ………………………………………. 216 g

Other ingredients:
Calcium Phosphate, Citric Acid -Anhydrous, Magnesium Hydroxide, Maltodextrin, SN831522 Forest Berry (PI), Sodium Bicarbonate, Sodium Carbonate Anhydrous, Sucralose.

Indications:
Urisol allows the healthy urinary flow and nutritionally support the healthy urinary tract function.

Warnings:
If pain or irritation persists for more than 2 days consult your doctor. The presence of blood in the urine war111nts immediate medical attention.
If symptoms persist please seek advice from healthcare provider.

Dosage:
Dissolves sachet of urisol in a glass of water and drink immediately. Two to four sachets a day, or as directed by healthcare provider.

Storage:
Store below 30'C in a dry place,away from direct sunlight.
Keep away from children.

Presentations:
Box of 10 sachets, each containing 2 g of Urisol.
ကုန်စည်အမျိုးအမည်
ဆီးလမ်းကြောင်းပိုးဝင်ခြင်းကို တိုက်ဖျက်နိုင်သော သဘာဝဆေးဖက်ဝင်အပင် (Cranberry) မှ ထုတ်လုပ်ထား သောကြောင့် ဆီးလမ်းကြောင်းကျန်းမာရေးကို အကျိုးပြုသော ဆေးမှုန့်ထုပ်ဖြစ်သည်။
သုံးစွဲပုံအညွှန်း
ဆေး (၁) ထုပ်ကို ရေတစ်ဖန်ခွက်နှင့် ဖျော်ပြီး ချက်ချင်းသောက်ရန်။
တစ်နေ့လျှင် (၂) ထုပ်မှ (၄)ထုပ် အထိသောက်နိုင်ပါသည်။
(သို့မဟုတ်) ဆရာဝန်ညွှန်ကြားချက်အတိုင်းသောက်ပါ။
သတိပေးချက်
ဆီးအောင့်ခြင်း ကျဉ်ခြင်းများ နှစ်ရက်ထက်ပိုဖြစ်ပါက ဆရာဝန်နှင့်ပြသပါ။
ဆီးထဲ သွေးပါလျှင် ဆေးကုသမှု အမြန်ဆုံးခံယူပါ။
တစ်စုံတစ်ရာ လက္ခဏာများ ဖြစ်ပေါ်ပါက ဆရာဝန်နှင့်တိုင်ပင်ပါ။
ထားသိုသိမ်းဆည်းပုံအညွှန်း
အပူချိန် (၃၀) ဒီဂရီစင်တီဂရိတ်အောက်၊ ခြောက်သွေ့သောနေရာ၊ နေရောင်နှင့်တိုက်ရိုက် မထိသောနေရာတွင် ထားပါ။
ကလေးများလက်လှမ်း မမီသောနေရာတွင် ထားပါ။
အရွယ်အစား၊ အရေအတွက် နှင့် အသားတင်ပမာဏ
အထုပ်ငယ်တစ်ထုပ်စီတွင် ဆေးမှုန့် ပမာဏ (၂)ဂရမ်ရှိသော (Sachets) အထုပ်ငယ် (၁၀)ထုပ် ကို ကတ်ထူစက္ကူဘူး ဖြင့် ထုတ်ပိုးထားသည်။