Trovir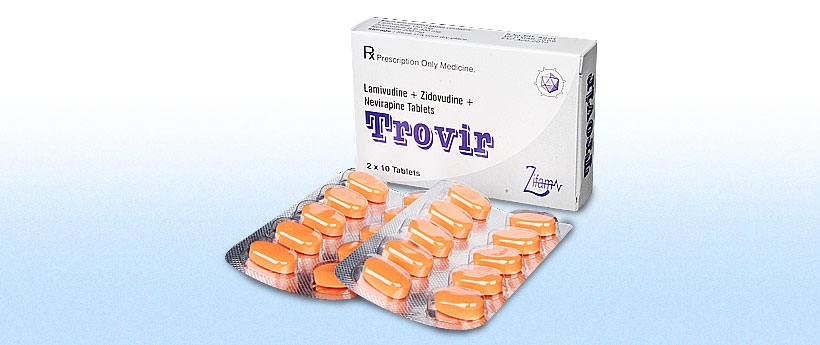 COMPOSITION
Each film-coated tablet contains
Lamivudine USP 150mg
Zidovudine BP 300mg
Nevirapine USP 200mg
DESCRIPTION
TROVIR is a combination of 3 drugs commonly used in the management of Human Immunodeficiency Virus (HIV) infection. Both zidovudine and lamivudine belong to the nucleoside analogue class of antiretrovial drugs. Both drugs act by terminating the growth of the DNA chain and inhibiting the reverse transcriptase of HIV. Nevirapine is a non-nucleoside reverse transcriptes inhibitor. It acts by directly inhibiting reverse transcriptase.
INDICATIONS:
TROVIR is indicated for the treatment of HIV infection, once patients have been stabilized on the maintenance regimen of nevirapine 200mg bd, and have demonstrated adequate tolerability to nevirapine.
DOSAGE AND ADMINISTRATION
Adults
1 tablet twice daily for patients weighing < 60 kg
TROVIR should not be administered to patients who have just initiated therapy with nevirapine. This is because an initial lead-in dosing of 200 mg nevirapine once daily for 2 weeks is recommended. Following this lead-in dose, a dose escalation (maintenance dose) to 200mg nevirapinebd may be carried out in the absence of any hypersensitivity reactions (e.g. rash, liver function test abnormalities; see Warnings and Precautions).
Monitoring of patients
Clinical chemistry tests, which include liver function tests, should be performed prior to initiating lead-in nevirapine therapy and at appropriate intervals during therapy (see Warnings and Precautions).
Dosage Adjustment
Lamivudine
Because it is a fixed-dose combination, TROVIR should not be prescribed for patients requiring dosage adjustment, such as those with low body weight (<50 kg).
Zidovudine
Because it is a fixed-dose combination, this formulation should not be prescribed for patients requiring dosage adjustment such as those with reduced renal function (creatinine clearance <50ml/min) or those experiencing dose-limiting adverse events.
Nevirapine
TROVIR should be discontinued if patients experience severe rash or a rash accompanied by constitutional findings (see Warnings and Precautions). Patients experiencing mild to moderate rash during the 14-day lead-in period of 200mg/day should not have their nevirapine dose increased or start therapy with TROVIR until the rash has resolved (see Warnings and Precautions).
TROVIR administration should be interrupted in patients experiencing moderate or severe liver function tests abnormalities (excluding GGT), until the liver function test elevations have returned to baseline. Nevirapine(using Nivepin Tablets) may then be restarted at 200mg per day. Increasing the daily dose to 200mg twice daily(using TROVIR) should be done with caution, after extended observation. Nevirapine should be parmanently discontinued if moderate or severe liver function test abnormalities recur (see Warnings and Precautions).
Patients who interrupt nevirapine dosing for more than 7 days should restart the recommended dosing, using one 200 mg Nevimune tablet daily for the first 14 days (lead-in) in combination with the other antiretrovirals, followed by 200mg twice daily using VIROZEN-S in the absence of any signs of hypersensitivity.
No data are available to recommend a dosage of nevirapine in patients with hepatic dysfunction, renal insufficiency or undergoing dialysis.[more]
CONTRAINDICATIONS:
TROVIR is contraindicated in patients with clinically significant hypersensitivity to any of the components contained in the formulation.[more]
TROVIR is also contraindicated for patients who are just initiating therapy with nevirapine. These patients require a lead-in dose of nevirapine 200 mg o.d., whereas this formulation contains the maintenance dose of nevirapine 200 mg b.d. (see Indications).
Thus, it is recommended that patients initiate therapy using a combination of LASOVIR and NIVEPIN during the first two weeks, and then switch to TROVIR once adequate tolerability is demonstrated.
WARNINGS AND PRECAUTIONS:
LACTIC ACIDOSIS/SEVERE HEPATOMEGLY WITH STEATOSIS
Lactic acidosis/severe hepatomegaly with steatosisLactic acidosis/severe hepatomegaly with steatosis, including fatal cases, have been reported with the use of antiretroviral nucleoside analogues alone or in combination, including stavudine and lamivudine.
A majority of these cases have been in women. Obestiy and prolonged nucleoside exposure may be risk factors. Caution should be exercised when administering stavudine to any patient, and particularly to those with no known risk factors for liver disease. Cases have also been reported in patients with no known risk factors. Treatment shuld be disscontinued in any patient who develops clinical or laboratory findings suggestive of lactic acidosis or hepatotoxicity (which may include hepatomegaly and steatosis even in the absence of marked amino-transferase elevations.
BONE MARROW SUPRESSION TROVIR should be used with caution in patients who have bone marrow compromise evidenced by granulocyte count<1000 cells/mm3 or hemoglobin<9.5 g/dl(see Side Effects).
MYOPATHY Myopathy and myositis, with pathological changes similar to that produced by HIV disease, have been associated with prolonged use of zidovudine and therefore may occur with therapy with TROVIR.
Use in Pregnancy and Lactation
Pregnancy: Lamivudine, Stavudine and nevirapine are all classified under category C. There are no adequate and well-controlled studies in pregnant women.
TROVIR should be used during pregnancy only if the potential benefits outweigh the potential risk.
Lactation: It is recommended that HIV -infected mothers do not breast-feed their infants to avoid risking postnatal transmission of HIV infection. It is not known whether lamivudine is excreted in human milk. Nevirapine and zidovudineare present in breast milk.
Paediatrics:TROVIR is not intended for use in paediatric patients.
DRUG INTERACTIONS:
WITH LAMIVUDINE Trimethoprim 160mg/sulphatmethoxazole 800 mg once daily has been shown to increase lamivudine exposure (AUC)
WITH ZIDOVUDINE Co-administration of ganciclovir, interferon-alpha, and other bone marrow suppressive or cytotoxic agents may increase the hematologic toxicity of zidovudine.
WITH NEVIRAPINE Rifampin/Rifabutin, Ketoconazole, Oral Contraceptives, Methadone.
Side Effects
LAMIVUDINEPancreatitis, Lactic acidosis and hepatic steatosis, hepatits and liver failure diarrhea, malaise and fatigue, headache, nausea and
vomiting, abdominal pain and discomfort, peripheral neuropathy, arthralgias, myalgias, skin rash, pruritus, transient neutropenia and thrombocytopenia and rarely, pancreatitis.
ZIDOVUDINEFever, headache, nausea, vomiting, anorexia, myalgia, insomnia, dizziness, paraesthesias, dyspnoea and rash. Malaise, gastrointestinal pain, dyspepsia and taste perversion neutropenia, lucopenia.
NEVIRAPINErash and increases in liver enzymes, hypersensitivity reactions mild to moderate, maculopapular erythematous cutaneous eruptions
PRESENTATION
Pack of 6 x 10's Tablets