Tazolin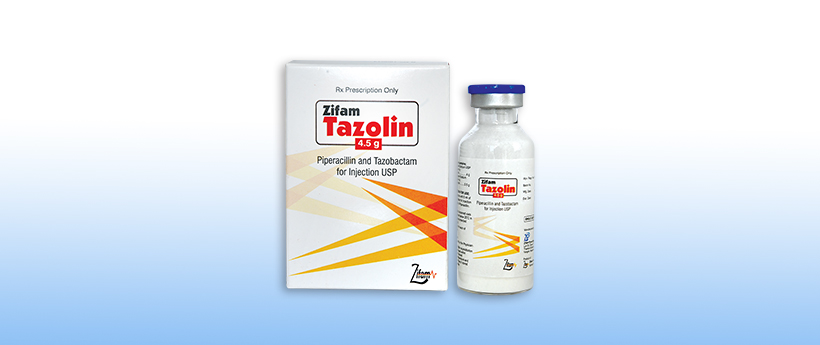 (Piperacillin Sodium & Tazobactam Sodium Injection)
Composition:
Each vial contains: Piperacillin Sodium USP Equiv. to Piperacillin 4.00g Tazobactam Sodium, Equiv. to Tazobactum 500mg with Water for injection: 20ml Twist Type Plastic Ampoules BP
Description:
Piperacillin-tazobactam is an injectable antibacterial combination product consisting of the semi synthetic antibiotic piperacillin sodium and the beta-lactamase inhibitor tazobactam sodium for intravenous administration.
Piperacillin sodium exerts bactericidal activity by inhibiting septum formation and cell wall synthesis of susceptible bacteria. In vitro, piperacillin is active against a variety of gram-positive and gram-negative aerobic and anaerobic bacteria. Tazobactam sodium has little clinically relevant in vitro activity against bacteria due to its reduced affinity to penicillin-binding proteins. It is a betal-lactamase inhibitor of the Richmond-Sykes class III (Bush class 2a @ 2b)penicillinases and cephalosporinases. It varies in its ability to inhibit class II and IV (2a & 4) penicillinases. Tazobactam does not induce chromosomally-mediated
beta-lactamases at tazobactam concentrations achieved with the recommended dosage regimen.
Piperacillin/tazobactam has been shown to be active aginst most strains of the following microorganisms both in vitro and in clinical infections.
Indications:
Zifam Tazolin(Piperacillin and tazobactam) for injection is indicated for the treatment of patients with moderate to severe infections caused by piperacillin-resistant, piperaicllin/ tazobactam susceptible, beta-lactamase producing strains of the designated microorganisms in the specified conditions listed below Appendicitis (complicated by rupture or abscess) and peritonitis caused by piperacillin-resistant, beta-lactamase producing strains of Escherichia. coli or members of the Bacteroides group: B.fragilis, B. ovatus, B. thetaiotaomicron or B.vulgatus. Uncomplicated and complicated skin and skin structure infections including cellulitis, cutaneous abscesses and ischemic/diabetic foot infections caused by piperacillin-resistant, beta-lactamase producing strains of Staphylococcus aureus
Postpartum endometritis or pelvic inflammatory disease caused by piperacillin-resistant, beta-lactamase producing strains of E.coli.Community-acquired pneumonia(moderate severity only caused by influenzae) Nosocomial pneumonia(moderate to severe) caused by piperacillin-resistant, beta-lactamase producing strains of S.aureus and by piperacillin/tazobactam susceptible Acinetobacter baumanii, Haemophilus influenzae, Klebsiella pneumoniae and P.aeruginosa. Nosocomial pneumonia caused by P.aeruginosa should be treated in combination with an aminoglycosdie (see Dosage and Administration). The treatment of mixed infections caused by piperacillin-susceptible organisms and piperacillin-resistant, beta-lactamase producing organisms susceptible to piperacillin/tazobactam should not require adding another antibiotic. An exception is in the treatment of Pseudomonas aeruginosa in nosocomial pneumonia, which should be in combination with an aminoglycoside.
Dosage And Administration:
Zifam Tazolin should be administered by intravenous infusion over 30 minutes. The usual total daily dose for adults is 13.5g (12 g piperacillin sodium 1.5g tazobactam) given as 4.5 g every eight hours.
Initial presumptive treatment of patients with nosocomial pneumonia should start with Zifam Tazolin at a dosage of 4.5g every six hours plus an aminoglycoside, totaling 18.0g (16.0 g piperacillin sodium/2.0 g tazobactam sodium). Treatment with the aminoglycoside should be continued in patients from whom Pseudomonas aeruginosa is isolated. If Pseudomonas aeruginosa is not isolated, the aminoglycoside may be discontinued at the discreation of the treating physician.
Renal Insufficiency:
In patients with renal insufficiency (creatinine clearance < 40ml/min), the intravenous dose of Zifam Tazolin (piperacillin and tazobactam for injection) should be adjusted to the degree of actual renal function impairment. The recommended daily doses of Zifam Tazolin for patients with renal insufficiency are as follows:
Recommended Dosing of Zifam Tazolin in Patients with Normal Renal Function and Renal Insufficiency (As total grams piperacillin/tazobactam)
| | | |
| --- | --- | --- |
| Renal Function(Creatinine Clearance, mL/min) | All Indications(except nosocomialpneumonia) | Nosocomial Pneumonia |
| >40ml/min20-40ml/min*<20ml/min* | 3.375 q 6h2.25 q 6h2.25 q 8h | 4.5 q 6h3.375 q 6h2.25 q 6h |
| | | |
| --- | --- | --- |
| Renal Function(Creatinine Clearance, mL/min) | All Indications(except nosocomial pneumonia) | Nosocomial Pneumonia |
| Hemodialysis**CAPD | 2.25 q 12 h2.25 q 12 h | 2.25 q 8 h2.25 q 8 h |
* Creatinine clearance for patients not receiving hemodialysis
** 0.75g should be administered following each hemodialysis session on hemodialysis session on hermodialysis days
Hemodialysis: The maximum dose is 2.25 g every twelve hours for all indications other than nosocomial pneumonia and 2.25 every eight hours for nosocomial pneumonia. Since hemodialysis remove 30 % to 40% of the administered dose, an additional dose of 0.75 g Zifam Tazolin should be administered following each dialysis period on hemodialysis days. No additional dosage of Zifam Tazolin is necessary for CAPD patients.
Duration of therapy: The usual duration of Zifam Tazolin treatment is from seven to ten days. However, the recommended duration of Zifam Tazolin treatment of nosocomial pneumonia is 7 to 14 days. In all conditions, the duration of therapy should be guided by the severity of the infection and the patient's clinical and bacteriological progress.
Intravenous administration: For intravenous administration, reconstitute Zifam Tazolin per gram of piperacillin with 5ml of a compatible reconstitution diluent from the list provided below
Compatible Reconstitution diluents 0.9 % sodium chloride for injection Serile water for injection Dextrose 5% Bacteriostatic Saline/Parabens Bacteriostatic water/Parabens Bacteriostatic Saline/Benzyl Alcohol Bacteriostatic water/Benzyl Alcohol
Contraindication:
Zifam Tazolin is contraindicated in patients with a history of allergic reactions to any of the penicillins, cephalosporins, or (beta)-lactamase inhibitors.
Drug Interactions
Aminoglycosides
The mixing of Zifam Tazolin with an aminoglycoside in vitro can result in substantial inactivation of the aminoglycoside. The aminoglycoside should be reconstituted and administered separately.
Probenecid
Probenecid administered concomitantly with Zifam Tazolin prolongs the half- life of piperacillin by 21 % and that of tazobactam by 71%.
Vancomycin
No pharmacokinetic interactions have been noted between Zifam Tazolin and vancomycin. Vecuronium Piperacillin when used concomitantly with vecuronium has been implicated in the prolongation of the neuromuscular blockade of vecuronium. Lactated Ringers solution is not compatible with Zifam Tazolin.
Pregnancy
Reproduction studies performed in animals have revealed no evidence of impaired fertility due to piperacillin/tazobactam administered up to a dose which is similar to the maximum recommended human daily dose based on body-surface area(mg/m2).
Lactation
Piperacillin is excreted in low concentrations in human milk; tazobactam concentrations in human milk have not been studied. Caution should be exercised when Zifam Tazolin is administered to a nursing woman.
Paediatric Use
Safety and efficacy in paediatric patients have not been established.
Geriatirc Use
Patients over 65 years are not an increased risk of developing adverse effects solely because of age. However, dosage should be adjusted in the presence of renal insufficiency.
Side Effects
90% of the adverse events reported in clinical trials were mild-moderate in severity and treatment in nature.
The common adverse events were:
Skin rashes: 1.3% including rash and pruritus
Gastrointestinal(0.9%)including diarrhea, nausea and vomiting
Allergic reactions(0.5%)
Overdose:
There have been post marketing reports of overdose with piperacillin/tazobactam. The majority of those events, experienced, including nausea, vomiting and diarrhoea, have also been reported with the usual recommended dosages. Patients may experience neuromuscular excitability or convulsions if higher than recommended doses are given intravenously (particularly in the presence of renal failure).
Presentation:
Zifam Tazolin 4.5gm
Each vial contains 4.5gms of Piperacillin sodium and Tazobactum sodium injection
Manufactured by:
Zifam Pyrex Myanmar Co., Ltd.
Lot C6, Zone-A, Thilawa SEZ, Thanlyin and Kyaut Tan Township, Yangon, Myanmar.
Product of
Zifam Pinnacle Pty.Ltd
The Healthcare Group