Optica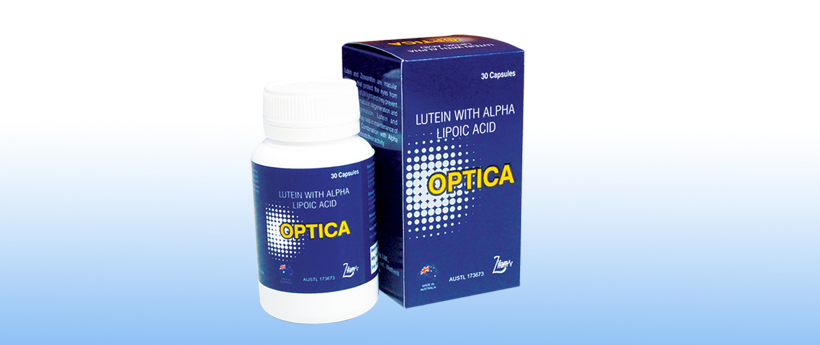 Each capsule contains:
Tagetes erecta ext. liquid conc. 28 mg
From Dry flower 4.564 g
Equiv. to Zeaxanthin 324 microgram
Equiv. to Lutein esters calculated as lutein 5.6 mg
Alpha lipoic acid 250 mg
Description:
Optica contains Lutein and Zeaxanthin which are macular pigments that protect the eyes from toxic effects of UV light and may prevent age related macular degeneration and cataract formation. Lutein and Zeaxanthin in combination with Alpha Lipoic acid boosts their activity.
Indications:
Optica is formulated with Lutein, Zeaxanthin and Alpha Lipoic Acid. Lutein helps maintain healthy eye function and macula health. Alpha Lipoic Acid helps to reduce the risk of cell damage due to free radicals.
Dosage:
Adults: 1 to 2 capsules a day, or as directed by a healthcare provider.
Storage: Store below 30°C in a dry place, away from direct sunlight.
Keep out of reach of children.
Do not use if cap seal is broken.
Contains Sulfites & Soyabean Products.
If symptoms persist, seek advice from a healthcare provider.
Presentation:
Pack of 10's, 30's and 3×10 Capsules.
Optica မျက်စိအားဖြည့်ဆေး
အသက်ကြီး၍ အမြင်အာရုံချို့တဲ့ခြင်း၊ ဆီးချိုရောဂါကြောင့် အမြင်အာရုံချို့တဲ့ခြင်း၊ Computer Vision Syndrome (CVS) နှင့် မျက်စိတိမ်စွဲရောဂါတို့ကို ကာကွယ်ပေးသော မျက်စိအားတိုးဆေးဖြစ်သည်။
သုံးစွဲပုံအညွှန်း
တစ်နေ့နှစ်ကြိမ်၊ တစ်ခါသောက် တစ်လုံး (မနက်စာ၊ ညစာနှင့် တွဲသောက်ပါ။)
သတိပေးချက်
Lutein & Zeaxanthin (or) Alpha lipoic acid နှင့်ဓာတ်မတည့်သူများ မသောက်ရ။

ကြိုတင်သတိပြုရန်
ဗီတာမင် အေ ချို့တဲ့ခြင်းကို ကုသရန်အတွက် မသင့်တော်ပါ။
ထားသိုသိမ်းဆည်းပုံအညွှန်း
နေရောင်နှင့်တိုက်ရိုက် မထိတွေ့သောနေရာ၊ အေး၍ခြောက်သွေ့သော နေရာတွင်ထားပါ။
ကလေးများလက်လှမ်း မမီသောနေရာတွင် ထားပါ။

အရွယ်အစား၊ အရေအတွက် နှင့် အသားတင်ပမာဏ
ဆေးတောင့် (၃၀) တောင့်ပါဝင်သော (HDPE Plastic Bottle) ပလတ်စတစ်ဘူးကို ကတ်ထူစက္ကူဘူးဖြင့် ထုတ်ပိုးထားသည်။