Natocare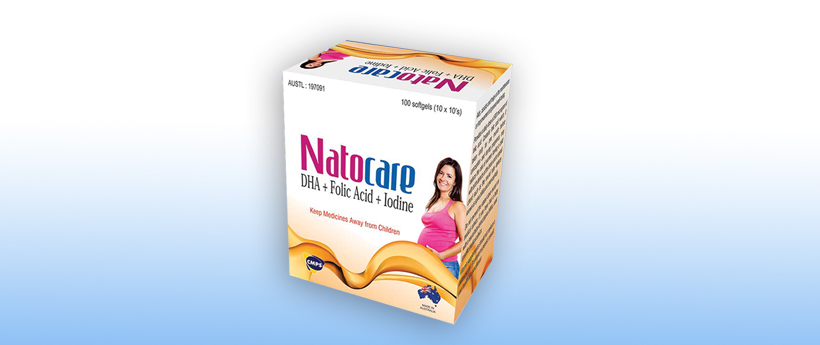 Composition:
Each soft gelatin capsule contains:
Docosahexaenoic acid (DHA)……………………200mg
Eicosapentaenoic acid (EPA)…………………….40 mg
(From fish oil – natural……………………………..800mg)
Folic acid………………………………………………….500 mcg
Potassium iodide………………………………………196.6 mcg
Equiv. to Iodine…………………………………………150 mcg
Properties:
Natocare is the safest source of Docosahexaenoic acid (DHA) during pregnancy and lactation.
Regular intake may improve and replenish vital Docosahexaenoic acid (DHA) and Folic Acid throughout pregnancy and lactation.
Indications:
Natocare may aid, assist and help in the maintenance or improvement of general well being.
It provides a daily dose of 500 micrograms of folic acid which, if taken daily for one month before conception and during pregnancy, may reduce the risk of women having a child with birth defects of the brain and spinal chord such as the neural tube defects know as spina bifida and anencephaly. You may consider to start with Natocare few months earlier if planning pregnancy.
Dosage:
One softgel daily or as recommended by healthcare practitioner.
Precautions:
Do not exceed the stated dose except on medical advice. If you have had a baby with a neutral tube defect/ spina bifida,seek specific medical advice.
Warning:
Vitamin supplements should not replace a balanced diet. If symptoms persist consult your healthcare practitioner.
Storage:
Store below 30 °C, away from direct sunlight.Keep away from children.
Presentation:
1×10's, 3×10's, 10×10's Blisters of 10 softgels.
Manufactured by:
CMPS
Contract Manufacturing & Packaging Services Pty Ltd.
20-22 Long Street, Smithfield, NSW 2164, Australia

ကုန္စည္အမ်ိဳးအမည္
ကိုယ္၀န္ေဆာင္မိခင္ ႏွင့္ သေႏၶသားတို႔အတြက္ မရွိမျဖစ္ အဓိကလုိအပ္ေသာ Essential Fatty Acid (EPA ႏွင့္ DHA)၊ အိုင္အိုဒင္းဓာတ္ ႏွင့္ ေဖာလစ္အက္ဆစ္တို႔ ျပည့္၀စြာပါ၀င္ေသာေသာက္ေဆးျဖစ္သည္။
သံုးစြဲပံုအညႊန္း
တစ္ေန႔ တစ္လံုးေသာက္ပါ။ (သို႔မဟုတ္) ဆရာ၀န္ညႊန္ၾကားခ်က္အတိုင္းေသာက္ပါ။
သတိေပးခ်က္
ဆရာ၀န္ညႊန္ၾကားခ်က္ မရွိလွ်င္ တစ္ေန႔ တစ္လံုးထက္ ပိုမေသာက္ပါႏွင့္။
ကေလးငယ္တြင္ Neural tube defect (သို႔မဟုတ္) Spina bifida ရွိလွ်င္ ဆရာ၀န္ႏွင့္ျပသပါ။ေန႔စဥ္စားေနက် အစာမ်ား အစားထိုးအေနျဖင့္ ဗီတာမင္ ျဖည့္စြက္စာမ်ားကို ေသာက္သံုးျခင္းမျပဳရ။
ထားသိုသိမ္းဆည္းပံုအညႊန္း
အပူခ်ိန္ ၃၀ ဒီဂရီစင္တီဂရိတ္ေအာက္၊ ေနေရာင္ႏွင့္ တိုက္ရိုက္ မထိေသာေနရာတြင္ထားပါ။
ကေလးမ်ားလက္လွမ္း မမီေသာ ေနရာတြင္ထားပါ။
အရြယ္အစား၊ အေရအတြက္ ႏွင့္ အသားတင္ပမာဏ
ေဆးတစ္ကတ္စီ္တြင္ ေဆးေတာင့္ (၁၀)ေတာင့္ ပါ၀င္ျပီး ေဆးကတ္(၁၀)ကတ္ပါ၀င္ေသာ ကတ္ထူစကၠဴဘူးျဖင့္ ထုတ္ပိုးထားသည္။