Live-up Liver Supplement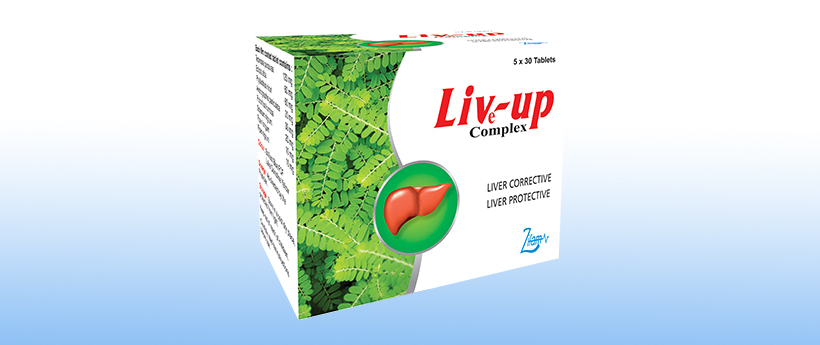 COMPOSITION:
Tephrosiapurpurea, Ecliptaalba, Phyllanthusniruri, Andrographispaniculata, Picrorhizakurroa, Solanumnigrum, Piper longum and Piper nigrum.
PRESENTATION:
Tab (round, biconvex, green, film-coated) 5 x 30's.
DESCRIPTION:
Each tablet contains Tephrosiapurpurea 120 mg, Ecliptaalba 60 mg, Phyllanthusniruri 60 mg, Andrographispaniculata 30 mg, Picrorhizakurroa 30 mg, Solanumnigrum 20 mg, Piper longum 10 mg and Piper nigrum 10 mg.
ACTIONS:
Live Up Complex is an especially formulated liver tonic to cover wide variety of liver diseases containing herbs with proven liver protective and corrective properties, confirmed by several clinical trials worldwide for each of the ingredients. Historically these herbs have been used by old Chinese and Indian traditional medicine practitioners or herbalists. More evidence is emerging on the antiviral, antibacterial and antiprotozoal properties of the isolates of these herbs although to a milder extent besides anti-inflammatory and lipotropic effects. Live Up Complex is being well accepted by both traditional and allopathic (English Medicine System) for treating variety of liver diseases.
INDICATIONS:
Treatment of fatty liver, as adjuvant co-therapy in treating infected liver diseases besides alcoholic liver and chronic liver diseases. It may stimulate appetite in individuals with history of past liver disease resulting into lack of appetite. Also indicated as a general liver tonic.
DOSAGE & ADMINISTRATION:
Adult >16 years: 1 tab twice daily, the dose can be increased to 2 tabs twice daily if needed. For long-term maintenance the dose need not be adjusted or reduced.
CONTRAINDICATIONS:
Hypersensitivity to any of the ingredients of Live Up Complex.
PRECAUTIONS:
Use in pregnancy & lactation: Pregnancy Category B: Exercise caution as with all medicaments, seek medical advise before taking Live Up Complex.
ADVERSE REACTIONS:
Insignificant, comparable to placebo.
Pack Size
30's x 5
ကုန်စည်အမျိုးအမည်
သဘာဝဆေးဖက်ဝင်အပင် (၈) မျိုးမှ ပေါင်းစပ်ထုတ်လုပ်ထားသော အသည်းအားဆေးဖြစ်သည်။
သုံးစွဲပုံအညွှန်း
လူကြီး (အသက် ၁၆ နှစ် နှင့်အထက်)
တစ်နေ့နှစ်ကြိမ်၊ တစ်ခါသောက် တစ်လုံး။ လိုအပ်လျှင် တစ်ခါသောက် နှစ်လုံးအထိ တိုးသောက်နိုင်ပါသည်။
ကိုယ်ဝန်ဆောင်နှင့် နို့တိုက်မိခင်များ
ဤဆေးမသောက်မီ ဆရာဝန်နှင့်တိုင်ပင်ပါ။
သတိပေးချက်
Live-up တွင်ပါဝင်သောအရာများနှင့် မတည့်ပါက မသောက်ပါနှင့်။
ထားသိုသိမ်းဆည်းပုံအညွှန်း
အပူချိန် ၃၀ ဒီဂရီစင်တီဂရိတ်အောက်၊ နေရောင်နှင့်တိုက်ရိုက် မထိတွေ့သောနေရာ တွင်ထားပါ။
အရွယ်အစား၊ အရေအတွက် နှင့် အသားတင်ပမာဏ
ဆေးပြား(၃၀)ပြား ပါဝင်သော ဆေးတစ်ကတ်စီကို ကတ်ထူစက္ကူဘူးငယ်ဖြင့် ထုတ်ပိုးထားသည်၊ အဆိုပါကတ်ထူစက္ကူဘူးငယ် (၁၀)ဘူးကို ကတ်ထူစက္ကူဘူးကြီးဖြင့် ထပ်မံထုတ်ပိုးထားသည်။