Lamitec 100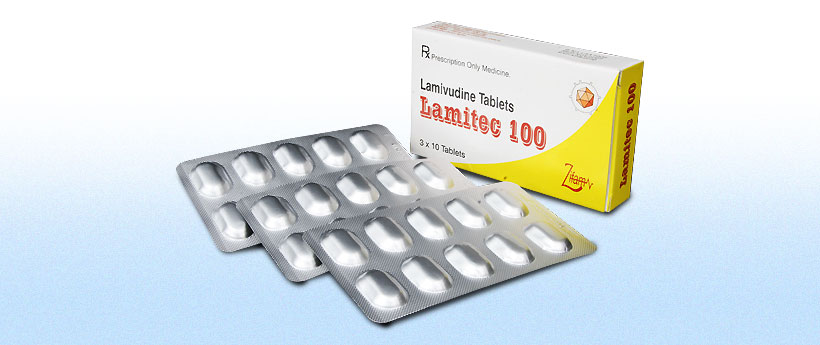 LAMIVUDINE
(Lamitec 100 mg &Lamitec 150 mg)
Composition
Lamitec 100 mg
Each film-coated tablet contains: Lamivudine USP 100mg
Lamitec 150mg
Each film-coated tablet contains: Lamivudine USP 150mg
DESCRIPTION
Lamivudine (3TC) is a synthetic nucleoside analogue with activity against both HIV and the hepatitis B virus (HBV). It belongs to a class of drugs called "nucleoside analogue reverse transcriptase inhibitors". It was originally developed for the treatment of HIV infections and was later found to be also effective against HBV.
Indications
HIV treatment (with Zidovudine plus a protease inhibitor).
HIV prophylaxis after needle sticks (with Zidovudine)
HBV treatment
Mechanism of Action
HBV treatment
Nucleoside analogues block HBV replication by inhibiting HBV DNA polymerase; therefore, the activity of these drugs is independent of host immune responses.
These agents are highly bioavailable by oral administration and are well tolerated. Of these, Lamivudine is the most extensively studies, most effective, and the only one that is FDA-approved.
HIV treatment
Lamivudine lowers the body viral load by inhibiting viral replicating. It is converted inside the host cell to the active metabolite, lamivudine triphosphate (LTP).
LTP is then incorporated as lamivudinnemonophosphate(LMP) by HBV polymerase into the viral DNA resulting in the premature temination of the viral DNA chain. LTP also inhibits the RNA-dependent and DNA-dependent DNA polymerase activities of HIV-1 reverse transcriptase. LTP is also a weak inhibitor of mammalin alpha, beta, and gamma DNA polymerases.
Dosage
I-Treatment of Hepatitis B
Children: Safety and efficacy have not been established. However a dose of 3mg/kg/day (up to 100mg per day) has been used.
Adults: 100mg once daily.
II-Treatment of HIV Infections:
Children 3 months to 12 yrs: 4 mg/kg bid (up to 150mg bid), with Zidovudine.
Adolescents and Adults weighing >50Kg: 150mg bid, with Zidovudine.
Adolescents and Adults wieghing =<50 Kg: 2mg/kg bid Zidovudine.
III-Preventation of HIV Infection following needle sticks:
Start within 2 hrs of needle stick and continue for 4 weeks.
Lamivudine 150mg bid+ Zidovudine 200 mg tid + indinavir 800 mg(or nelfinavir 750 mg) tid
CONTRAINDICATION
Lamitec tablets are contraindicated in patients with previously demonstrated clinically significant hypersensitivity to any of components of the products.
SIDE EFFECTS
• GI: Nausea, vomiting, anorexia, diarrhea, and abdominal pain
• Liver/ Pancreas: Elevated AST, ALT, and amylase.

• CNS: Headache, insomnia, fatigue, dizziness, fever/chills, and pain.
• Neuromuscular: Paresthesia and peripheral neuropathy.
• Respiratory: Cough, and nasal symptoms
• Hematologic: Neutropenia and anemia
• Dermatologic: Rash
PRECAUTIONS AND WARNINGS
• Lamivudine pharmacokinetics is markedly altered by renal insufficiency with increased bioavailability and peak level. Therefore, renal dosage adjustment is necessary.

• Use with caution in children with risk factors for the development pancreatitis.
• Discontinuation of therapy is likely to result in the reactivation of HBV and relapse of the disease.
• Prolonged therapy leads to the development of lamivudine-resistant HBV species (YMDD) in over 30% of patients after one year of treatment and over 50% after 18 months. However, some experts believe that therapy should be continued even in this setting.
Lactic Acidosis/ Severe Hepatomegal with Steatosis
• Lactic acidosis and severe hepatomegaly with steatosis, including fatal cases, have been reported with the use of antiretroviral nucleoside analogues alone or in combination, including lamivudine.
A majority of these cases have been in women. Caution should be exercised when administering LAMITEC to any patient, and particularly to those with known risk factors for liver disease. Treatment with LAMITEC should be suspended in any patient who develops clinical or laboratory findings suggestive of lactic acidosis or hepatotoxicity.
Presentation
Lamitec 100mg: Pack of 3×10's tablets.
Lamitec 150mg: Pack of 3×10's tablets.