Etratec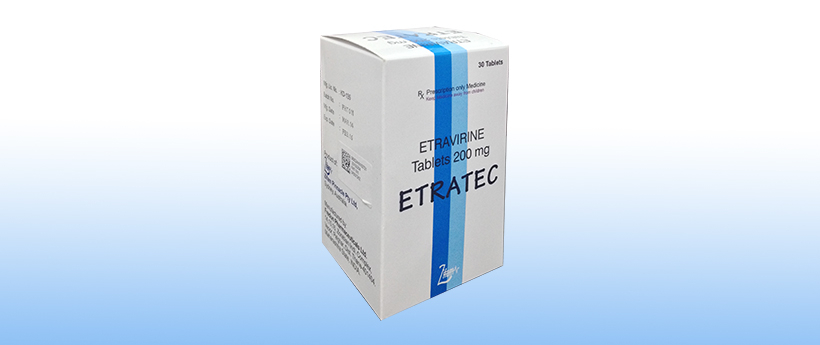 Each uncoated tablet contains:
Etravirine ………………. 200 mg
Excipients ………………….. q.s.

Indication and Usage:
ETRATEC is a human immunodeficiency virus type 1 (HIV-1) specific , non-nucleoside reverse transcriptase inhibitor (NNRTI) indicated:
In combination with other antiretroviral agents for the treatment of HIV-1 infection in treatment-experienced adult patients, who have evidence of viral replication and HIV-1 strains resistant to an NNRTI and other antiretroviral agents. In patients who have experienced virologic failure on an NNRTI-containing regimen, do not use ETRATEC in combination with only N[t]RTis.
The safety and efficacy of ETRATEC have not been established in pediatric patients or treatment-naive adult patients .

Dosage and administration:
The recommended oral dose of ETRATEC tablets is 200 mg taken twice daily following a meal. The type of food does not affect the exposure to etravirine

Mechanism of Action:
Etravirine is an NNRTI of human immunodeficiency virus type 1 (HIV-1). Etravirine binds directly to reverse transcriptase (RT) and blocks the RNA-dependent and DNA­ dependent DNA polymerase activities by causing a disruption of the enzyme's catalytic site. Etravirine does not inhibit the
human DNA polymerases a, andy

Contraindications:
None.

Warning and Precautions:
Severe, potentially life-threatening and fatal skin reactions have been reported. These include cases of Stevens­ Johnson syndrome , hypersensitivity reaction, toxic epidermal necrolysis and erythema multiforme. Immediately discontinue treatment if severe hypersensitivity , severe rash or rash with systemic symptoms or liver transaminase elevations develop and monitor clinical status, including liver transaminases closely.

Drug interactions:
ETRATEC should not be co-administered with the following antiretrovirals:
– Ti pra n a vir I riton a vir, fo sam pre n a vir/ riton a vir , atazanavir/ritonavir
-Protease inhibitors administered without ritonavir
-NNRTis
Co-administration of ETRATEC with drugs that inhibit or induce CYP3A, CYP2C9, and CYP2C19 may alter the therapeutic effect or adverse reaction profile of etravirine.
Co-administration of ETRATEC with drugs that are substrates of CYP3A, CYP2C9, and CYP2C19 or are transported by P­ glycoprotein may alter the therapeutic effect or adverse reaction profile of the co-administered drug(s).

Use in Specific Population:
Pregnancy: Pregnancy Category 8- Use during pregnancy only if the potential benefit justifies the potential risk.
Nursing Mothers: Mother should not breastfeed due to both the potential for HIV transmission and the potential for adverse reactions in nursing infants.

Adverse Reactions:
The most common adverse drug reactions of moderate to severe intensity(>/= 2%) which occurred at a higher rate than placebo are rash and peripheral neuropathy.

Storage: Store in a cool, dry place and protect from light and moisture.
Keep medicine away from children.

Presentation:
Bottle of 30's & 60's Tablets