Eletec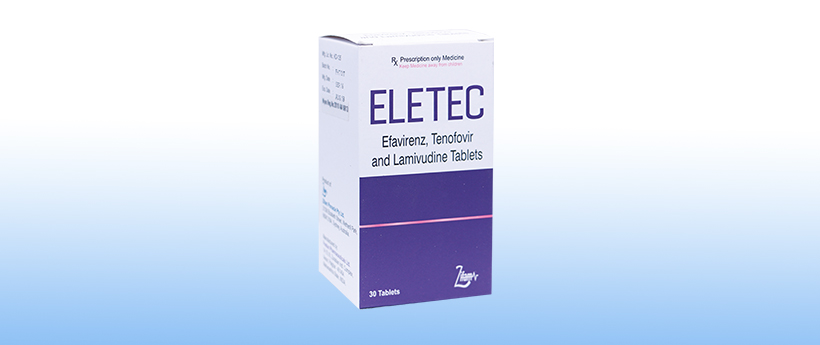 Each film coated tablet contains:
Efavirenz USP …………………………………. 600 mg
Tenofovir Disoproxil Fumarate ……………. 300 mg
(to provide Tenofovir Disoproxil …………… 245 mg)
Lamivudine USP ………………………………. 300 mg
Excipients ……………………………………….. q.s.
Colour:Approved colour used.
Description:
ELETEC, a combination of 2 nucleoside analog HIV-1 reverse
transcriptase inhibitors and 1 non-nucleoside HIV-1 reverse transcriptase inhibitor, is indicated for use alone as a complete
regimen or in combination with other antiretroviral agents for the treatment of HIV-1 infection in adults.

Indications and Usage:
ELETEC is indicated for use alone as a complete regimen or in combination with other antiretroviral agents for the treatment of HIV-1 infection in adults.

Dosage and administration:
Recommended dose: One tablet once daily taken orally on an empty stomach, preferably at bedtime.
Dose in renal impairment: Should not be administered in patients with creatinine clearance <50 ml/min.

Contraindications:
ELETEC is contraindicated in patients with previously demonstrated clinically significant hypersensitivity to any of the components of ELETEC.
ELETEC should not be administered concurrently with astemizole, bepridil, cisapride, midazolam, pimozide, triazolam or ergot derivatives because competition for CYP3A4 by efavirenz could result in the inhibition of the metabolism of these drugs and create the potential for serious and/or life-threatening adverse reactions (e.g.,cardiac arrhythmias, prolonged sedation, or respiratory depression).
ELETEC must not be administered with herbal preparations containing St. John's wort ( Hypericum perforatum) used for anxiety and depression or voriconazole (antifungal agent).

Warning and Precautions:
Serious psychiatric symptoms: Immediate medical evaluation is recommended.
Nervous system symptoms (NSS) :NSS are frequent usually begins 1-2 days after initiating therapy and resolve in 2-4 weeks. Dosing at bedtime may improve tolerability.
Rash: Discontinue if severe rash develops.
Convulsions: Use caution in patients with a history of seizures.
Redistribution/accumulation of body fat: observed in patients receiving antiretroviral therapy
Products with same or similar active ingredients: Do not use with drugs containing efavirenz, tenofovir disoproxil fumarate, lamivudine orwi1h drugs containing emtricitabine.

Drug interactions:
Efavirenz: Co-administration of efavirenz can alter the concentrations of other drugs and other drugs may alter the concentration of efavirenz.
The potential for drug-drug interactions must be consider before and during therapy.
Didanosine: Tenofovir disoproxil fumarate increases didanosine concentrations. Use with caution and monitor for evidence of didanosine toxicity when coadministered. Consider dose reductions or discontinuation of didanosine if warranted.
Atazanavir: Co-administration of ELETEC and atazanavir or atazanavir/ritonavir is not recommended
Lopinavir/ritonavir. Co-administration increases tenofovir concentrations. Monitorforevidenceoflenofovirtoxicity.

Use in Specific Population:
Women of child bearing potential: Women receiving ELETEC should avoid pregnancy
Pregnancy: ELETEC should not be used during the first trimester of pregnancy.
Nursing Mothers: Women infected with HIV should be instructed not to breastfeed.
Hepatitis B or C co-infection or therapy with medications associated with liver toxicity: Monitor liver enzymes. Use caution in patient with hepatic impairment
Pediatrics: Safety and efficacy not established in patients less than 18 years of age.

Adverse Reactions:
Most common adverse reactions( 10%) which occurred are diarrhea, nausea, fatigue, headache, dizziness, depression, insomnia, abnormal dreams and rash.

Storage:
Store in a cool dry place and protect from light and moisture.
Keep Medicine away from children. Presentation: Bottle of 30's Tablets.