Amik 500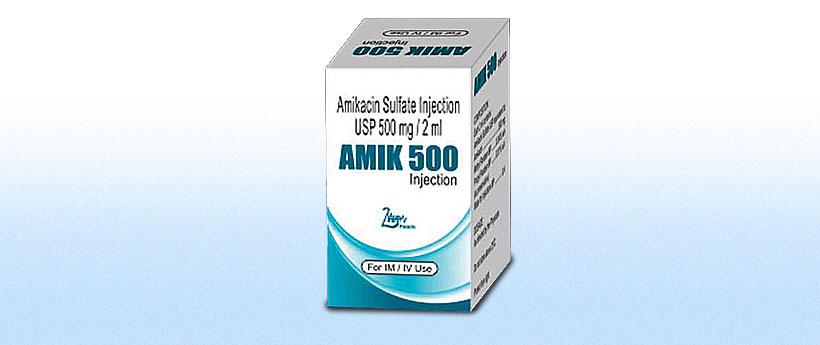 Each 2 ml contains:
Amikacin Sulfate USP equivalent to
Amikacin 500mg
Methyl ParabenBP 0.04 %w/v
Propyl Paraben BP(as preservative) 0.01%w/v
Water for Injections BP q.s.
Description
Amikacin Sulfate Injection is an aminoglycoside antibiotic, which is active against a broad spectrum of Gram-negative organisms, including pseudomonas and some Gram-positive organisms.
Microbiology
Gram-negative – Amitax is active in vitro against Pseudomonas species.
Gram-positive – Amitax is active in vitro against penicillinase producing Staphylococcus species, including methicillin-resistant strains.
Indications
Serious Bacterial Infections
Intra-abdominal Infections
Meningitis and Other CNS Infections
Mycobacterial Infections
Other Mycobacterial Infections
Nocardia Infections
Empiric Therapy in Febrile Neutropenic Patient
Pulse Therapy
Amikacin and Dapsone is used for the treatment of actinomycotic foot.
Amikacin demonstrates synergetic action with carbenicylin, benzylpenicillin and cephalosporins (co-administration with beta-lactams may decrease in aminoglycoside efficacy in patients with severe chronic renal impairment).
It is used also in infections of bile –excreting tracts, infections of bones and joints (including. osteomyelitis), wound infection and post-operative infections.
Dosage Administration
For proper dosage patient's weight should be known. The dosage is same for intravenous and intramuscular injection.
Adults and children: 15mg/kg/day in two equally divided doses.
Neonates and premature infants: An initial loading dose of 10mg/kg followed by 15mg/kg/day in two equally divided doses.
Use in pregnancy and lactation
Amikacin is excreted into human milk in small amounts. Due to poor oral bioavailability, systemic toxicity in the nursing infant is unlikely,
it is recommended that if nursing mothers must be given amikacin, the infants should not be breast fed during therapy.
Aminogylcosides cross the placenta and there is a potential risk of fetal nephrotoxicity and ototoxicity.
Contraindications
High sensitiveness to amilkacin and aminoglycoside antibiotics. Pregnancy and uremia.
Adverse Reactions
All aminoglycosides have the potential to induce auditory vestibular and renal toxicity and neuromuscular blockade.
Toxic effects on the 8th cranial nerve can result in hearing loss or balance, or both. Amikacin primarily affect auditory function. Cochlear damage includes high frequency deafness and usually occurs before clinical hearing loss can be detected. Acute muscular paralysis and apnea can occur following treatment with aminoglycoside drugs.
Drug Interactions
Drugs with nephrotoxic potential (eg, bacitracin, cisplatin, amphotericin B, vancomycin, enflurane, methoxyflurane).
May increase risk of nephrotoxicity.
Loop diuretics(eg, furosemide). May increase risk of auditory toxicity.
Neuromuscular blocking agents(eg, tubocurarine). Amikacin may enhance effects of these agents.
Overdosage
In the event of dosage or toxic reaction, peritoneal dialysis or haemodialysis will aid in the removal of amikacin from the blood.