400D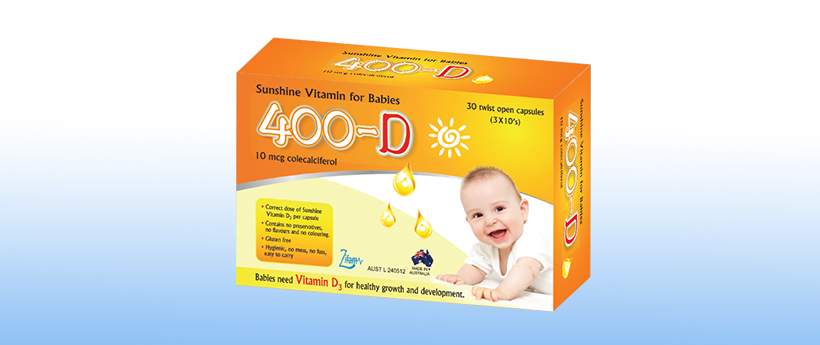 Each twist – open capsule contains:
Colecalciferol ……………………………. 10 mcg
Equiv. to Vitamin 03 ……………………… 400 IU
Other Ingredients:
Medium chain triglycerides, Shell consists of Gelatin, Glycerol and Purified water
Description:
Vitamin D is an essential fat-soluble vitamin that is vital for the creation of our skeletal framework and teeth. Vitamin D is also needed to help deposit important minerals such as calcium and phosphorus into our bones each day, which are needed to maintain their strength. Having a strong skeletal system will help prevent bone diseases such as osteoporosis and osteomalacia, and decrease the risk of bone fractures later in life. Vitamin D also helps to regulate calcium levels, as well as help immune system.
400-D is the Sunshine Vitamin for Babies! 400-D is especially designed to deliver the correct dose of Vitamin D3 per capsule. Unlike many Vitamin D3 drops which utilise droppers, where the correct dose is hard to measure, 400-D's twist-open capsule technology helps deliver a hygienic, safe and precise dose without any mess and is easy to carry.
Indications:
400-D prevents Vitamin D deficiency & helps in calcium and phosphorus absorption, a deficiency of which can lead to rickets i.e.
softening and weakening of bones and osteoporosis in later life.
Dosage:
Twist and break-open the capsule and squirt the liquid directly into the infant's mouth (discard the capsule shell).
Infant (up to 12 months)-1 capsule daily,
Children (over 1 year) and
Adults -1to 2 capsules a day, or as directed by your healthcare practitioner.
Warnings:
If symptoms persist, seek advice from your healthcare practitioner. Vitamin supplements should not replace a balanced diet.
Storage:
Store below 30°C, away from direct sunlight.
Presentation:
Pack of 3 Blisters of 10 softgels each. Pack of 6 Blisters of 10 softgels each
ကုန်စည်အမျိုးအမည်
ဗီတာမင် ဒီ ချို့တဲ့ခြင်းကို ကာကွယ်ပေးပြီး ကယ်လ်ဆီယမ် နှင့် ဖော့စ်ဖရပ် စုပ်ယူမှုတွင် ကူညီပေးသော ဆေးတောင့် ဖြစ်ပါသည်။ကလေးများအတွက် ကိုယ်ခံစွမ်းအားကို မြှင့်တင်ပေး၍ ရောဂါများကို ကာကွယ်တားဆီး နိုင်သည်။

သုံးစွဲရန်အညွှန်း
Capsule ကို လိမ်၍ ချိုးဖွင့်ကာ အရည်ကို ကလေးငယ်အား တိုက်ပါ။ (အခွံကိုလွှင့်ပစ်ရန်)
အသက် တစ်နှစ်အထိ ကလေးများ။ ။ တစ်နေ့တစ်လုံး
အသက် တစ်နှစ်အထက် နှင့် လူကြီး။ ။တစ်နေ့ တစ်လုံး မှ နှစ်လုံး
(သို့မဟုတ်) ဆရာဝန်ညွှန်ကြားချက်အတိုင်း သောက်ရန်။
သတိပေးချက်
တစ်စုံတစ်ရာ လက္ခဏာများ ဖြစ်ပေါ်ပါက ဆရာဝန်နှင့်ပြသပါ။
နေ့စဉ်စားနေကျ အစားအစာများ အစားထိုးအနေဖြင့် ဗီတာမင်ဖြည့်စွက်စာများကို သောက်သုံးခြင်းမပြုရ။

ထားသိုသိမ်းဆည်းပုံအညွှန်း
အပူချိန် ၃၀ ဒီဂရီစင်တီဂရိတ်အောက်၊ နေရောင်နှင့်တိုက်ရိုက် မထိတွေ့သော နေရာတွင်ထားပါ။
အရွယ်အစား၊ အရေအတွက် နှင့် အသားတင်ပမာဏ
ဆေးတစ်ကတ်စီတွင် ဆေးတောင့်(၁၀)တောင့် ပါဝင်ပြီး
ဆေးကတ်(၃)ကတ်ပါဝင်သော ကတ်ထူစက္ကူဘူးဖြင့်လည်းကောင်း၊
ဆေးကတ်(၆)ကတ်ပါဝင်သော ကတ်ထူစက္ကူဘူးဖြင့်လည်းကောင်း ပုံစံ (၂)မျိုးဖြင့် ထုတ်ပိုးထားသည်။