ZIFAM 3VC KIT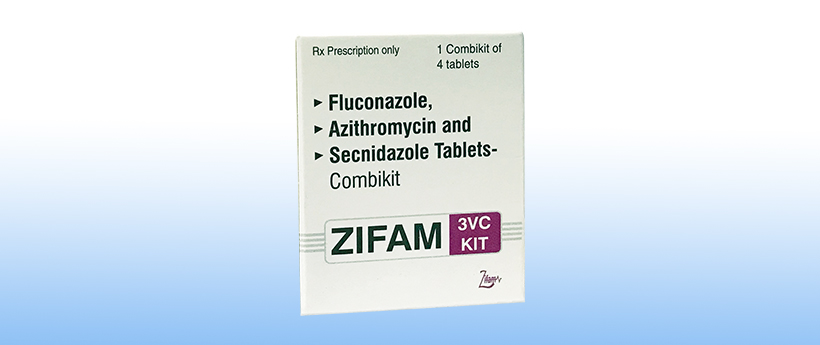 ZIFAM 3VC KIT
Zifam Pinnacle
MIMS Classification(s): 10a Preparations for Vaginal Conditions
CONTENTS: Fluconazole, Azithromycin and Secnidazole.

PRESENTATION: Kit (combikit) x 1's.

DESCRIPTION: Each combikit contains: Fluconazole Tablet USP 150 mg – 1 tablet: Each uncoated tablet contains: Fluconazole USP 150 mg.

Azithromycin Tablet USP 1 g – 1 tablet: Each film coated tablet contains: Azithromycin Dihydrate USP equivalent to anhydrous Azithromycin 1 g.

Secnidazole Tablet 1 g – 2 tablets: Each film coated tablet contains: Secnidazole 1 g.

ZIFAM 3VC KIT containing Fluconazole, Azithromycin and Secnidazole is a kit of 3 drugs to treat vaginal discharge. This treatment is recommended on the principle of 'Syndromic Management of Sexually Transmitted Diseases'.

The syndromic approach has identified 7 common presenting symptoms. Vaginal discharge is one of the commonest presenting symptoms in women.

Excipients/Inactive Ingredients: Azithromycin Tablet 1 g: Colour: Sunset Yellow Lake and Titanium Dioxide.

Secnidazole Tablet 1 g: Colour: Lake of Tartrazine and Titanium Dioxide.

ACTIONS: Microbiology: The three most common causative pathogens of vaginitis are: Fungus: Candida albicans (Monilla); Bacteria: N. gonorrhoea, C. trachomatis, Gardnerella vaginalis; Protozoa: Trichomonas vaginilis.

Based on causative pathogens of vaginal discharge the ZIFAM 3VC KIT contains:

Antifungal – Fluconazole.

Antibacterial – Azithromycin.

Antitrichomonal – Secnidazole.

Fluconazole eradicates Candida albicans.

Azithromycin eradicates N. gonorrhea and C. trachomatis.

Secnidazole is effective against Trichomonas vaginalis and bacteria causing Bacterial vaginosis (Gardnerella vaginalis and anaerobes).

INDICATIONS/USES: ZIFAM 3VC KIT is indicated for the syndromic management of vaginal discharge.

Clinical manifestations range from asymptomatic carriage to severe inflammatory signs and symptoms.

Approximately one third of asymptomatic female carriers become symptomatic within 6 months.

Typical symptoms include vaginal or introital itch plus discharge. The classical clinical feature-bright red vaginal mucosa and a yellow or green frothy, malodorous discharge are often evident but some cases merely as a mildly inflamed vagina of nonspecific appearance, or even without any abnormalities.

DOSAGE & ADMINISTRATION: Fluconazole 150 mg tablet as a single dose.

Azithromycin 1 g tablet as a single oral dose under supervision.

Secnidazole 2 g single dose (administration of 2 Secnidazole 1 g tablets).

Administration: Fluconazole: 1 tab before/after food.

Azithromycin: 1 tab 1 hr before/2 hrs after food.

Secnidazole: 2 tabs to be taken with food.

CONTRAINDICATIONS: ZIFAM 3VC KIT contains three chemotherapeutic agents Fluconazole, Azithromycin and Secnidazole. These three drugs do not cause drug interaction when given together on the same day concomitantly. However, like any therapeutic agents Fluconazole, Azithromycin and Secnidazole have known contraindications; which must be known before ZIFAM 3VC KIT is prescribed.

Fluconazole: Hypersensitivity to Fluconazole or any other azole or to any excipients in the product.

Azithromycin: Azithromycin is contraindicated in patients with known hypersensitivity to Azithromycin or any macrolide antibiotic.

Secnidazole: The drug should not be administered during the first trimester of pregnancy or lactation or in individual hypersensitive to nitroimidazole derivatives.

SIDE EFFECTS: The majority of side effects are mild and transient.

Diarrhea, nausea, abnormal taste, dyspepsia, abdominal pain, headache, pseudo membrane colitis can occur.

Immediately inform a physician of the side effects, if any.

STORAGE: Store below 30°C in a dry place. Protect from light.

VALIDITY CODE: Not available.