Flucloxa 250/500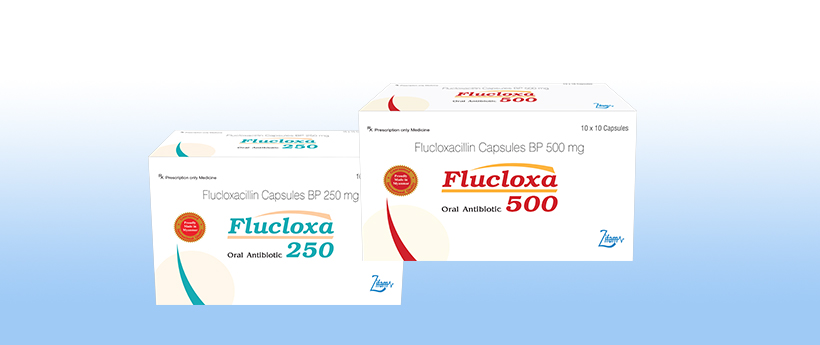 Flucloxa 250
Oral Antibiotic
Composition
Each capsule contains;
Flucloxacillin Sodium BP
Equivalent to Flucloxacillin
Excipients
Flucloxa 500
Oral Antibiotic
Composition
Each capsule contains:
Flucloxacillin Sodium BP
Equivalent to Flucloxacillin
Excipients
DESCRIPTION:
FLUCLOXA is a preparation of penicillin. It acts in similar way to penicillin by inhibiting bacterial cell wall synthesis.
INDICATIONS:
Flucloxacillin is indicated for the treatment of infections due to gram positive organisms, including infections caused by beta-lactamase producing Staphylococci.
Typical indications include:
Respiratory tract infections; Pneumonia, lung abscess, empyema, sinusitis, pharyngitis, tonsillitis.
Skin and soft tissue infections: Boils, abscesses, carbuncles, furnuculosis infected skin conditions e.g. ulcer eczema, acne, cellulitis, infected wounds, infected burns, etc.
Other infections caused vy Flucloxacillin – sensitive organisms: Osetomyelitis, enteritis, endocarditis, urinary tract infection, meningitis, septicaemia.
Flucloxacillin is also indicated for use as a prophylactic agent during major surgical procedures where appropriate; for example, cardiothoracic and orthopedic surgery.
DOSAGE AND ADMINISTRATION:
Doses should be administered half hour before meals.
Adult dosage (including elderly patients): 250mg four times daily. Dose may be increased in severe infections.
In osteomyelitis, endocarditis- upto 8g daily, in divided doses six to eight hourly.
Children's dosage: 2-10 years- half of adult dose; Under 2 years- one fourth of adult dose
CONTRAINDICATIONS:
Flucloxacillin is contraindicated for those who have hypersensitivity to penicillins.
USE IN PREGNANCY AND LACTATION:
Animal studies with Flucloxacillin have shown no teratogenic efecs. The use of Flucloxacillin in pregnancy should be reserved for cases considered essential by the clinician
SIDE EFFECTS:
Side effects, as with other penicillin, are uncommom and mainly of a mild and transitory nature. Gastrointestinal upsets (e.g. nausea, diarrhea) and skin rashes have been reported. If a skin rash occurs, treatment should be discontinued. Hepatitis and cholestatic jaundice have been rarely reported.
OVERDOSAGE:
Problems of overdosage with Flucloxacillin are unlikely to occur. In case of overdosage patient should be treated symptomatically
PHARMACEUTICAL
PRECAUTIONS:
Store below 30°C and protect from moisture
KEEP MEDICINES OUT OF REACH OF CHILDREN
PRESENTATION:
FLUCLOXA 250: Pack of 10×10's
FLUCLOXA 500: Pack of 10×10's